Director dealings: Marston's finance chief buys £20k of shares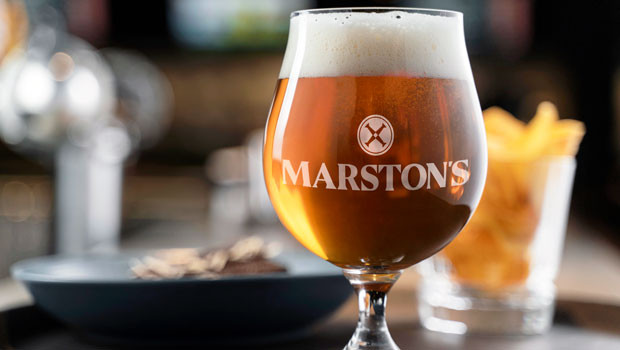 Marston's shares were in positive territory on Friday afternoon, after its chief financial officer invested almost £20k in shares.
The company said Hayleigh Lupino bought 54,003 shares in an open market transaction on the London Stock Exchange.
It said the CFO paid 36.83p for each share, spending a total of £19,889.30.
At 1240 BST, shares in Marston's were up 4.07% at 37.8p.
Reporting by Josh White at Sharecast.com.
Top Director Buys
Marston's (MARS)
Director name: Lupino,Hayleigh
Amount purchased: 54,003 @ 36.83p
Value: £19,889.30

Reneuron Group (RENE)
Director name: Ross,Iain G
Amount purchased: 60,000 @ 27.70p
Value: £16,620.00

Woodside Energy Group Ltd Npv (di) (WDS)
Director name: Wyatt,Ben
Amount purchased: 741 @ $34.70
Value: $13,609.65

Woodside Energy Group Ltd Npv (di) (WDS)
Director name: Cooper,Frank
Amount purchased: 653 @ $34.70
Value: $11,993.39

Woodside Energy Group Ltd Npv (di) (WDS)
Director name: Haynes,Christopher
Amount purchased: 637 @ $34.70
Value: $11,699.52

Woodside Energy Group Ltd Npv (di) (WDS)
Director name: Ryan,Sarah
Amount purchased: 569 @ $34.70
Value: $10,450.60

Woodside Energy Group Ltd Npv (di) (WDS)
Director name: Goh,Swee Chen
Amount purchased: 525 @ $34.70
Value: $9,642.47

Reneuron Group (RENE)
Director name: Ross,Iain G
Amount purchased: 30,000 @ 26.00p
Value: £7,800.00

Woodside Energy Group Ltd Npv (di) (WDS)
Director name: Macfarlane,Ian
Amount purchased: 254 @ $34.70
Value: $4,665.12

Touchstone Exploration Inc Npv (di) (TXP)
Director name: Baay,Paul R.
Amount purchased: 3,477 @ $1.42
Value: $2,920.99

Reneuron Group (RENE)
Director name: Ross,Iain G
Amount purchased: 10,000 @ 25.85p
Value: £2,585.00


Top Director Sells
Utilico Emerging Markets Ltd (di) (UEM)
Director name: Liu,Isabel
Amount sold: 133 @ 218.52p
Value: £290.63