Director dealings: Joules Group CEO lowers stake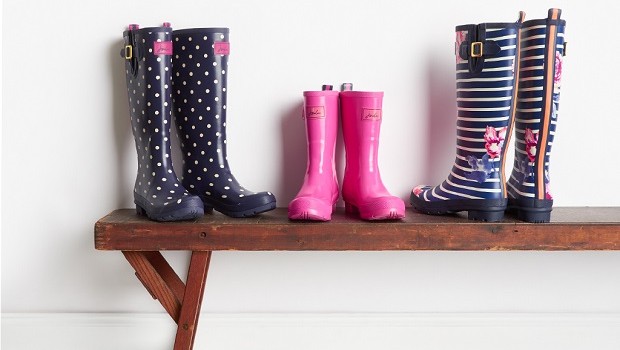 Colin Porter, chief executive officer of retailer Joules Group, sold 750,000 ordinary shares in the firm on Monday, pocketing almost £2.5m in the process.
Porter's decision to sell the 750,000 shares, reducing his overall stake in the group to 1,519,822 ordinary shares, was just one of three transactions made by Joules' board members and associated parties, as Neil McCausland, non-executive chairman, and his spouse Dr Janet Lovekin disposed of 130,000 and 20,000, respectively.
Joules' top man parted with the shares at a price tag of 325p each, collecting £2,437,500 in the process.
McCausland also let go of his shares at 325p a piece for a total of £422,500, and Dr Lovekin lowered her stake to 130,000 at a price of 329.91p, making herself a healthy £65,000.
Joules posted a jump in interim profit and revenue on 31 January on the back of growth in retail and wholesale, as the fashion retailer added it now expected profit for the full year to be "slightly ahead" of analysts' expectations.
In a trading update for the 26 weeks to 26 November 2017, the group said statutory pre-tax profit was up 22.8% to £8.3m, while underlying pre-tax profit rose 24.3% to £9.3m, on revenue of £96.2m, up 18.2% on the same period a year ago.
As of 1520 GMT, shares had dropped off 2.65% to 330.00p.
Top Director Buys
Stobart Group Ltd. (STOB)
Director name: Tinkler,Andrew
Amount purchased: 250,000 @ 247.78p
Value: £619,449.97

Vietnam Enterprise Investments (di) (VEIL)
Director name: Scriven,Dominic
Amount purchased: 36,423 @ 482.10p
Value: £175,595.29

Conviviality (CVR)
Director name: Hunter,Diana
Amount purchased: 50,000 @ 305.00p
Value: £152,500.00

Xlmedia (XLM)
Director name: Weihs,Ory
Amount purchased: 26,737 @ 186.80p
Value: £49,944.72

Xlmedia (XLM)
Director name: Weihs,Ory
Amount purchased: 27,322 @ 181.00p
Value: £49,452.82

Conviviality (CVR)
Director name: Hunter,Diana
Amount purchased: 15,000 @ 297.00p
Value: £44,550.00

Adept Telecom (ADT)
Director name: Kingsman ,Christopher
Amount purchased: 5,000 @ 285.00p
Value: £14,250.00

Scientific Digital Imaging (SDI)
Director name: Tilston,David
Amount purchased: 45,000 @ 31.46p
Value: £14,157.00

Aggregated Micro Power Holdings (AMPH)
Director name: Burrell,Richard
Amount purchased: 14,000 @ 100.00p
Value: £14,000.00

Conviviality (CVR)
Director name: Newman ,Martin
Amount purchased: 3,330 @ 300.00p
Value: £9,990.00

Latham (james) (LTHM)
Director name: Latham,Nick
Amount purchased: 164 @ 792.50p
Value: £1,299.70

Latham (james) (LTHM)
Director name: Dunmow,David A
Amount purchased: 145 @ 792.50p
Value: £1,149.13

Latham (james) (LTHM)
Director name: Latham ,PiersÂ
Amount purchased: 142 @ 792.50p
Value: £1,125.35

Latham (james) (LTHM)
Director name: Wright,Andrew George
Amount purchased: 66 @ 792.50p
Value: £523.05

Latham (james) (LTHM)
Director name: Sutton,Christopher David
Amount purchased: 65 @ 792.50p
Value: £515.13

Lsl Property Services (LSL)
Director name: Buck,Helen
Amount purchased: 54 @ 282.00p
Value: £152.28

Lsl Property Services (LSL)
Director name: Crabb,Ian
Amount purchased: 54 @ 282.00p
Value: £152.28

Centrica (CNA)
Director name: Hanafin,Mark
Amount purchased: 112 @ 133.95p
Value: £150.02

Centrica (CNA)
Director name: Hodges,Mark
Amount purchased: 112 @ 133.95p
Value: £150.02

Centrica (CNA)
Director name: Conn,Iain C
Amount purchased: 112 @ 133.95p
Value: £150.02

Lsl Property Services (LSL)
Director name: Castleton ,Adam
Amount purchased: 53 @ 282.00p
Value: £149.46

Rps Group (RPS)
Director name: Young,Gary
Amount purchased: 47 @ 264.00p
Value: £124.08


Top Director Sells
Joules Group (JOUL)
Director name: Porter,Colin Nigel
Amount sold: 750,000 @ 325.00p
Value: £2,437,500.00

Joules Group (JOUL)
Director name: McCausland,Neil William
Amount sold: 130,000 @ 325.00p
Value: £422,500.00

Joules Group (JOUL)
Director name: McCausland,Neil William
Amount sold: 20,000 @ 325.00p
Value: £65,000.00

Titon Holdings (TON)
Director name: Howlett,Nicholas C
Amount sold: 10,250 @ 177.00p
Value: £18,142.50

Aggregated Micro Power Holdings (AMPH)
Director name: Burrell,Richard
Amount sold: 14,000 @ 99.80p
Value: £13,972.00

Latham (james) (LTHM)
Director name: Sutton,Christopher David
Amount sold: 1,239 @ 805.00p
Value: £9,973.95