Director dealings: Johnson Matthey non-exec spends over £51k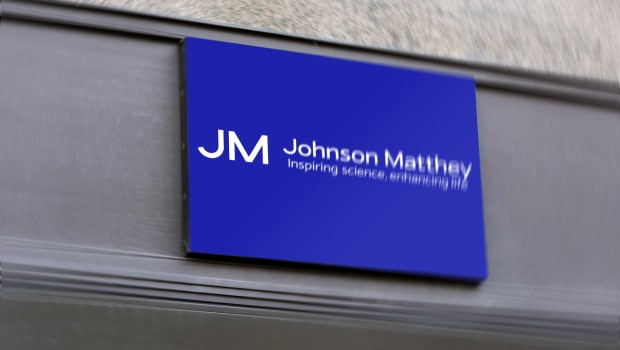 Speciality chemicals company Johnson Matthey was on the list of director buys on Tuesday, after one of its non-executive directors spent over £51k on shares.
The FTSE 250 firm said Jane Griffiths bought 2,500 shares on the London Stock Exchange on Friday.
Dr Griffiths paid 2,050.77p for each share, spending a total of £51,269.25 in the process.
On the selling side of the ledger, Kosmos Energy disclosed a sale worth almost $0.15m made by a director.
The company said Roy Franklin sold 20,732 shares on Monday, for a price of 710 US cents each.
That valued the transaction at a total of $147,197.20.
Reporting by Josh White at Sharecast.com.
Top Director Buys
Alphawave Ip Group (AWE)
Director name: Sutardja,Sehat
Amount purchased: 200,000 @ 152.73p
Value: £305,458.00

Enquest (ENQ)
Director name: Bseisu,Amjad
Amount purchased: 804,131 @ 29.00p
Value: £233,197.98

Enquest (ENQ)
Director name: Bseisu,Amjad
Amount purchased: 284,051 @ 28.80p
Value: £81,806.68

Biotech Growth Trust (the) (BIOG)
Director name: Yates,Roger
Amount purchased: 10,000 @ 777.64p
Value: £77,763.82

Johnson Matthey (JMAT)
Director name: Griffiths,Jane
Amount purchased: 2,500 @ 2,050.77p
Value: £51,269.25

Thungela Resources Limited Npv (di) (TGA)
Director name: Ntsaluba,Sango Siviwe
Amount purchased: 500 @ R$210.90
Value: R$20,758.29

Pensionbee Group (PBEE)
Director name: Oyesanya,Lara
Amount purchased: 11,673 @ 128.50p
Value: £14,999.80

Invesco Perpetual Uk Smaller Companies Inv Trust (IPU)
Director name: Prentis,Mike
Amount purchased: 2,959 @ 487.00p
Value: £14,410.33

Audioboom Group (BOOM)
Director name: Tobin,Michael
Amount purchased: 909 @ 1,095.00p
Value: £9,953.55

Invesco Perpetual Uk Smaller Companies Inv Trust (IPU)
Director name: Lewis,Jane
Amount purchased: 1,000 @ 489.00p
Value: £4,890.00

Oracle Power (ORCP)
Director name: Memon,Naheed
Amount purchased: 379,966 @ 0.31p
Value: £1,158.90

F&c Investment Trust (FCIT)
Director name: Hollond,Beatrice
Amount purchased: 121 @ 819.43p
Value: £991.51

Oracle Power (ORCP)
Director name: Migge,Andreas
Amount purchased: 75,993 @ 0.31p
Value: £231.78

Oracle Power (ORCP)
Director name: Hutchins ,David (Sam)
Amount purchased: 57,755 @ 0.31p
Value: £176.15

Brewin Dolphin Holdings (BRW)
Director name: Beer,Robin
Amount purchased: 32 @ 513.00p
Value: £164.16

Emis Group (EMIS)
Director name: Southby,Peter
Amount purchased: 11 @ 1,398.00p
Value: £153.78

Sthree (STEM)
Director name: Beach,Andrew
Amount purchased: 42 @ 360.40p
Value: £151.37

Centrica (CNA)
Director name: OÂ'Shea,Chris
Amount purchased: 185 @ 81.46p
Value: £150.70

Centrica (CNA)
Director name: Ringrose ,Kate
Amount purchased: 184 @ 81.46p
Value: £149.88

Superdry (SDRY)
Director name: Wills,Shaun
Amount purchased: 88 @ 169.90p
Value: £149.51

Rotork (ROR)
Director name: Davis,Jonathan
Amount purchased: 54 @ 275.41p
Value: £148.72

Oracle Power (ORCP)
Director name: Steed,Mark
Amount purchased: 43,316 @ 0.31p
Value: £132.11

Unilever (ULVR)
Director name: Pitkethly,Graeme
Amount purchased: 3 @ 3,602.00p
Value: £108.06

F&c Investment Trust (FCIT)
Director name: Knapp,Edward
Amount purchased: 12 @ 819.43p
Value: £98.33


Top Director Sells
Serco Group (SRP)
Director name: Soames,Rupert
Amount sold: 574,897 @ 182.29p
Value: £1,047,967.64

Caledonia Investments (CLDN)
Director name: Masters,Mathew
Amount sold: 3,724 @ 3,807.50p
Value: £141,791.30

Kosmos Energy (di) (KOS)
Director name: Franklin,Roy
Amount sold: 20,732 @ $7.10
Value: $121,379.73

Serco Group (SRP)
Director name: Crossley,Nigel
Amount sold: 50,911 @ 182.29p
Value: £92,804.59