Director dealings: IWG director makes share sale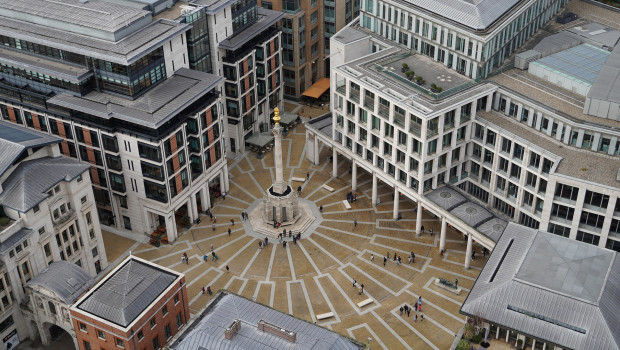 IWG revealed on Wednesday that non-executive director Francois Pauly had disposed of 25,000 ordinary shares in the FTSE 100-listed serviced offices provider.
Pauly, who formerly served as chief executive of Banque Internationale à Luxembourg, sold the shares on Tuesday at an average price of 324.49p each, for a total value of £81,122.50.
Earlier in the month, IWG posted a big decline in third-quarter revenues but said it had seen a substantial pick up in interest from corporates and boasted of a "strong" performance that saw it move into a net cash position.
On Wednesday, analysts at Barclays initiated coverage on the firm at 'overweight' with a 340.0p target price.
"We see IWG as the most capable operator in the fast-growing market for flexible office space," they said.
"Near term, we think a strong balance sheet, good cash generation and targeted lease negotiation position the business well to emerge from the COVID crisis relatively unscathed. Longer term, we expect market repair to drive improved margins beyond pre-COVID levels, and demand for flexible workspace should continue to grow."
As of 1630 GMT, IWG shares were up 3.02% at 334.60p.
Top Director Buys
Morrison (wm) Supermarkets (MRW)
Director name: Higginson,Andrew
Amount purchased: 29,497 @ 166.42p
Value: £49,088.91

Glaxosmithkline (GSK)
Director name: Barron ,Hal
Amount purchased: 2,223 @ $18.75
Value: $34,361.46

Fisher (james) & Sons (FSJ)
Director name: Kilpatrick,Stuart
Amount purchased: 3,000 @ 794.50p
Value: £23,835.00

Equals Group (EQLS)
Director name: Taylor,Ian Alexander Irving Strafford
Amount purchased: 50,000 @ 29.75p
Value: £14,875.00

The City Pub Group (CPC)
Director name: Watson,Clive
Amount purchased: 20,000 @ 73.00p
Value: £14,600.00

Zoo Digital Group (ZOO)
Director name: Blundell ,Phillip
Amount purchased: 25,000 @ 52.90p
Value: £13,225.00

Science Group (SAG)
Director name: Bertram,Peter
Amount purchased: 5,000 @ 238.00p
Value: £11,900.00

Equals Group (EQLS)
Director name: Cooper,Richard
Amount purchased: 35,000 @ 30.00p
Value: £10,500.00

Segro (SGRO)
Director name: Barnard,Mary
Amount purchased: 1,135 @ 875.91p
Value: £9,941.58

Equals Group (EQLS)
Director name: Hughes.,Alan
Amount purchased: 34,000 @ 29.00p
Value: £9,860.00

Novacyt S.a. (cdi) (NCYT)
Director name: Snape,Edwin
Amount purchased: 1,080 @ 715.00p
Value: £7,722.00

The City Pub Group (CPC)
Director name: Watson,Clive
Amount purchased: 5,000 @ 74.00p
Value: £3,700.00

Softcat (SCT)
Director name: Watt,Graeme
Amount purchased: 14 @ 1,120.00p
Value: £156.80

Sabre Insurance Group (SBRE)
Director name: Kingan,Anneka
Amount purchased: 61 @ 249.94p
Value: £152.46

Cls Holdings (CLI)
Director name: Kirkman ,Andrew
Amount purchased: 77 @ 195.50p
Value: £150.54

Cls Holdings (CLI)
Director name: Widlund,Fredrik
Amount purchased: 77 @ 195.50p
Value: £150.54

Rotork (ROR)
Director name: Davis,Jonathan
Amount purchased: 49 @ 306.60p
Value: £150.23

Rotork (ROR)
Director name: Hostetler,Kevin
Amount purchased: 49 @ 306.60p
Value: £150.23

Sabre Insurance Group (SBRE)
Director name: Carter,Geoffrey Richard
Amount purchased: 60 @ 249.94p
Value: £149.96

Softcat (SCT)
Director name: Charlton,Graham
Amount purchased: 13 @ 1,120.00p
Value: £145.60

Glaxosmithkline (GSK)
Director name: Walmsley,Emma
Amount purchased: 9 @ 1,462.31p
Value: £131.61

Imi (IMI)
Director name: Twite,Roy
Amount purchased: 11 @ 1,103.00p
Value: £121.33

Imi (IMI)
Director name: Shook ,Daniel
Amount purchased: 11 @ 1,103.00p
Value: £121.33


Top Director Sells
Iwg (IWG)
Director name: Pauly,Francois
Amount sold: 25,000 @ 324.49p
Value: £81,122.50