Director dealings: Harworth CEO makes share purchase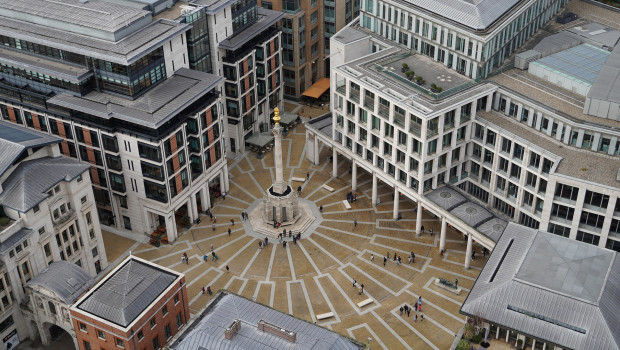 Harworth Group said on Thursday that chief executive Lynda Shillaw had acquired 40,029 ordinary shares in the London-listed property developer.
Shallow, who took over as CEO in November 2020, purchased the shares at an average price of 124.25p each, for a total value of £49,736.03.
Back in January, Harworth sold its 283-acre Bilsthorpe business park in Nottingham for £4.6m.
Harworth disposed of the asset in two separate transactions and would continue its strategy of recycling capital from the sale of "more mature assets" into the acquisition of higher-yielding properties with asset management and development potential.
As of 1650 GMT, Harworth shares were up 2.40% at 128.0p.
Top Director Buys
Electrocomponents (ECM)
Director name: Fairhead,Rona A
Amount purchased: 12,528 @ 989.50p
Value: £123,964.57

Electrocomponents (ECM)
Director name: Fairhead,Rona A
Amount purchased: 12,457 @ 993.88p
Value: £123,807.65

Electrocomponents (ECM)
Director name: Fairhead,Rona A
Amount purchased: 12,450 @ 993.33p
Value: £123,669.16

Electrocomponents (ECM)
Director name: Fairhead,Rona A
Amount purchased: 12,541 @ 985.50p
Value: £123,591.55

Electrocomponents (ECM)
Director name: Fairhead,Rona A
Amount purchased: 12,541 @ 985.50p
Value: £123,591.55

Senior (SNR)
Director name: King,Ian
Amount purchased: 100,000 @ 117.80p
Value: £117,800.00

Senior (SNR)
Director name: Squires,David
Amount purchased: 55,000 @ 117.80p
Value: £64,790.00

Senior (SNR)
Director name: Bodenham,Andrew
Amount purchased: 42,950 @ 117.35p
Value: £50,401.82

Harworth Group (HWG)
Director name: Shillaw,Lynda
Amount purchased: 40,029 @ 124.25p
Value: £49,736.03

Senior (SNR)
Director name: Foyle,Bindi
Amount purchased: 38,788 @ 118.00p
Value: £45,769.84

Residential Secure Income (RESI)
Director name: Gray,Robert Blackburn
Amount purchased: 48,596 @ 93.00p
Value: £45,194.28

Polymetal International (POLY)
Director name: Cockerill,Ian
Amount purchased: 1,500 @ 1,514.37p
Value: £22,715.59

Legal & General Group (LGEN)
Director name: Baldock,Henrietta
Amount purchased: 6,985 @ 288.90p
Value: £20,179.80

Gresham House Strategic (GHS)
Director name: Potter,David R W
Amount purchased: 999 @ 1,399.00p
Value: £13,976.01

Harworth Group (HWG)
Director name: Patmore,Katerina
Amount purchased: 8,054 @ 124.16p
Value: £9,999.54

Conduit Holdings Limited Com Shs (di) (CRE)
Director name: Sandor,Richard L
Amount purchased: 1,000 @ 548.00p
Value: £5,480.00

Coca-cola Hbc Ag (cdi) (CCH)
Director name: Bogdanovic,Zoran
Amount purchased: 160 @ 2,363.08p
Value: £3,780.93

Gresham House Strategic (GHS)
Director name: Potter,David R W
Amount purchased: 250 @ 1,389.00p
Value: £3,472.50

Gresham House Strategic (GHS)
Director name: Potter,David R W
Amount purchased: 250 @ 1,380.00p
Value: £3,450.00

Gresham House Strategic (GHS)
Director name: Potter,David R W
Amount purchased: 200 @ 1,380.00p
Value: £2,760.00

Sse (SSE)
Director name: Alexander,Gregor
Amount purchased: 41 @ 1,409.23p
Value: £577.78

Sse (SSE)
Director name: Pibworth ,Martin
Amount purchased: 31 @ 1,409.23p
Value: £436.86

Johnson Matthey (JMAT)
Director name: MacLeod,Robert
Amount purchased: 12 @ 3,029.82p
Value: £363.58

Ocado Group (OCDO)
Director name: Richardson,Mark
Amount purchased: 8 @ 2,114.00p
Value: £169.12

Ocado Group (OCDO)
Director name: Jensen,Luke
Amount purchased: 8 @ 2,114.00p
Value: £169.12

Ocado Group (OCDO)
Director name: Steiner,Tim
Amount purchased: 8 @ 2,114.00p
Value: £169.12

Ocado Group (OCDO)
Director name: Abrams,Neill
Amount purchased: 8 @ 2,114.00p
Value: £169.12

Balfour Beatty (BBY)
Director name: Quinn,Leo
Amount purchased: 51 @ 295.00p
Value: £150.45

Vistry Group (VTY)
Director name: Palmer,Martin
Amount purchased: 14 @ 1,061.54p
Value: £148.62

Vistry Group (VTY)
Director name: Sibley,Earl
Amount purchased: 14 @ 1,061.54p
Value: £148.62

Vistry Group (VTY)
Director name: Prothero,Graham
Amount purchased: 14 @ 1,061.54p
Value: £148.62


Top Director Sells
Greggs (GRG)
Director name: Whiteside,Roger
Amount sold: 28,005 @ 2,195.00p
Value: £614,709.77

Wheaton Precious Metals Corp.npv (cdi) (WPM)
Director name: Smallwood,Randy V. J.
Amount sold: 9,905 @ $49.12
Value: $287,839.96

Standard Chartered (STAN)
Director name: Halford,Andrew Nigel (Andy)
Amount sold: 28,726 @ 492.90p
Value: £141,590.45

Standard Chartered (STAN)
Director name: Winters,Bill
Amount sold: 21,854 @ 492.90p
Value: £107,718.36

Jupiter Fund Management (JUP)
Director name: Carter,Edward Bonham
Amount sold: 37,570 @ 274.50p
Value: £103,129.65

Wheaton Precious Metals Corp.npv (cdi) (WPM)
Director name: Holtby,Douglas M.
Amount sold: 3,285 @ $49.12
Value: $95,462.32

Rolls-royce Holdings (RR.)
Director name: East,Warren
Amount sold: 62,267 @ 116.79p
Value: £72,721.63

Wheaton Precious Metals Corp.npv (cdi) (WPM)
Director name: Luna,Eduardo
Amount sold: 2,015 @ $49.12
Value: $58,556.03

Rolls-royce Holdings (RR.)
Director name: Daintith,Stephen
Amount sold: 37,398 @ 116.79p
Value: £43,677.12

Senior (SNR)
Director name: Bodenham,Andrew
Amount sold: 10,319 @ 116.80p
Value: £12,052.59