Director dealings: Foxtons director ups stake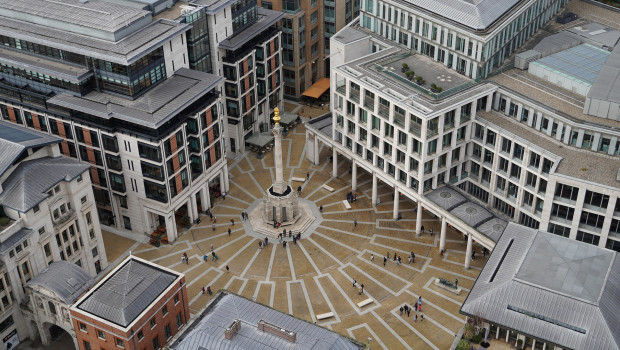 Foxtons Group revealed on Tuesday that independent non-executive director Alan Giles had purchased 35,557 ordinary shares in the London-listed real estate firm.
Giles, who joined Foxtons after wrapping up his time with Rentokil Initial in 2017, bought the shares on Tuesday at an average price of 70.24p each, for a total value of £24,973.99.
At the end of October, Foxtons said revenues had fallen behind in the third quarter as the tenant fee band and a deteriorating residential sales market in London took their toll.
In the three months to the end of September, group revenue declined 7% from the third quarter of last year to £32.5m. Revenue for the first nine months of the year was down 5% to £83.6m.
In the lettings business, revenue was hit by the tenant fee ban that kicked in on 1 June. It fell 4% to £22.1m.
As of 1640 GMT, Foxtons shares were down 1.73% at 68p.
Top Director Buys
Globalworth Real Estate Investments Limited (GWI)
Director name: Papalekas,Ioannis
Amount purchased: 30,476 @ 8.75
Value: 266,665.00

Future (FUTR)
Director name: Byng-Maddick,Zillah
Amount purchased: 11,962 @ 1,254.00p
Value: £150,003.48

Future (FUTR)
Director name: Ladkin-Brand,Penny
Amount purchased: 7,974 @ 1,254.00p
Value: £99,993.96

Globalworth Real Estate Investments Limited (GWI)
Director name: Raptis,Dimitris
Amount purchased: 10,000 @ 8.75
Value: 87,500.00

Coats Group (COA)
Director name: Bull,Nicholas
Amount purchased: 100,000 @ 72.00p
Value: £72,000.00

Foxtons Group (FOXT)
Director name: Giles,Alan
Amount purchased: 35,557 @ 70.24p
Value: £24,973.99

Downing Strategic Micro-cap Investment Trust Red (DSM)
Director name: Dawkins,William
Amount purchased: 29,700 @ 66.00p
Value: £19,602.00

Empresaria Group (EMR)
Director name: Driggs,Rhona
Amount purchased: 35,000 @ 53.00p
Value: £18,550.00

Fusion Antibodies (FAB)
Director name: Mawson,Alan
Amount purchased: 20,000 @ 75.00p
Value: £15,000.00

Hicl Infrastructure (HICL)
Director name: Bane,Michael
Amount purchased: 7,535 @ 160.00p
Value: £12,056.00

(MNG)
Director name: Lawther,Robin
Amount purchased: 5,000 @ 239.20p
Value: £11,959.89

U And I Group (UAI)
Director name: Upton,Richard
Amount purchased: 7,751 @ 149.00p
Value: £11,548.99

Iomart Group (IOM)
Director name: Masters,Richard
Amount purchased: 3,000 @ 354.50p
Value: £10,635.00

Iomart Group (IOM)
Director name: Masters,Richard
Amount purchased: 3,000 @ 354.50p
Value: £10,635.00

U And I Group (UAI)
Director name: Upton,Richard
Amount purchased: 5,000 @ 149.00p
Value: £7,450.00

Ades International Holding (di) (ADES)
Director name: Farouk ,Mohamed
Amount purchased: 500 @ $12.30
Value: $6,150.00

F&c Investment Trust (FCIT)
Director name: Ecsery,Francesca
Amount purchased: 673 @ 738.08p
Value: £4,967.27

Downing Strategic Micro-cap Investment Trust Red (DSM)
Director name: Dawkins,William
Amount purchased: 7,300 @ 66.00p
Value: £4,818.00

Ades International Holding (di) (ADES)
Director name: Farouk ,Mohamed
Amount purchased: 100 @ $12.20
Value: $1,220.00

Lsl Property Services (LSL)
Director name: Buck,Helen
Amount purchased: 62 @ 243.00p
Value: £150.66

Lsl Property Services (LSL)
Director name: Castleton ,Adam
Amount purchased: 62 @ 243.00p
Value: £150.66

Stagecoach Group (SGC)
Director name: Griffiths,Martin Andrew
Amount purchased: 112 @ 134.00p
Value: £150.08

Stagecoach Group (SGC)
Director name: Threapleton,Mark
Amount purchased: 112 @ 134.00p
Value: £150.08

Stagecoach Group (SGC)
Director name: Paterson,Ross
Amount purchased: 112 @ 134.00p
Value: £150.08

Premier Oil (PMO)
Director name: Rose ,Richard
Amount purchased: 172 @ 87.24p
Value: £150.05

Virgin Money Uk (VMUK)
Director name: Smith,Ian S
Amount purchased: 84 @ 178.47p
Value: £149.91

Great Portland Estates (GPOR)
Director name: Sanderson,Nick
Amount purchased: 18 @ 832.83p
Value: £149.91

Great Portland Estates (GPOR)
Director name: Courtauld,Toby
Amount purchased: 18 @ 832.83p
Value: £149.91

Lsl Property Services (LSL)
Director name: Crabb,Ian
Amount purchased: 61 @ 243.00p
Value: £148.23

Premier Oil (PMO)
Director name: Durrant ,Tony
Amount purchased: 144 @ 87.24p
Value: £125.63

Premier Oil (PMO)
Director name: Allan,Robin
Amount purchased: 144 @ 87.24p
Value: £125.63


Top Director Sells
Empiric Student Property (ESP)
Director name: Attlee,Timothy
Amount sold: 94,500 @ 96.00p
Value: £90,720.00

Mobile Streams (MOS)
Director name: Buckingham,Simon David
Amount sold: 44,618,648 @ 0.15p
Value: £66,927.97

Alpha Real Trust Ltd. (ARTL)
Director name: Chowdhry,Jeff
Amount sold: 5,000 @ 181.00p
Value: £9,050.00

Jubilee Metals Group (JLP)
Director name: Phosa,Mathews
Amount sold: 107,500 @ R0.04
Value: R250.58