Director dealings: Evraz finance chief bails out with shares at record high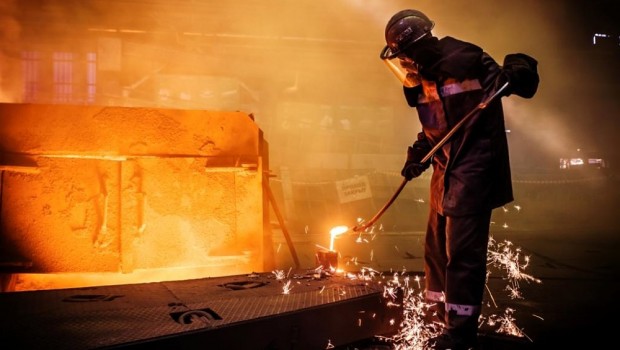 Evraz finance director Nikolay Ivanov let go of a batch of shares at the start of the week, just as the shares rose past some of the most aggressive forecasts from analysts.
Ivanov sold his 40,000 shares on Monday for 444p apiece, for a total transaction amount of £177,527.6, the company said in a statement.
Just under a fortnight earlier, the company had reported a 70% jump in full-year consolidated earnings to reach $2.6bn, mostly on the back of an upswing in prices.
In prescient fashion, on 12 February analysts at Goldman Sachs hiked their target price on the company's stock from 300.0p to 430.0p, upgrading their recommendation to a 'buy'.
"We see sustainably high metal spreads in 2018 on synchronized global economic growth, continued policy-induced capacity rationalisation in China and cost-inflation pressure. Inside we update estimates and PTs on higher commodity prices."
Goldman also pointed to the fact that at the time the shares were changing hands at a forward EV/EBITDA multiple of 4.4, for a 25% discount when compared to the company's historical valuation on that metric.
Top Director Buys
Raven Russia Ltd (RUS)
Director name: Bilton,Anton John Godfrey
Amount purchased: 1,000,000 @ 46.15p
Value: £461,499.99

Warehouse Reit (WHR)
Director name: Kirton,Neil
Amount purchased: 175,000 @ 100.00p
Value: £175,000.00

Ecofin Global Utilities And Infrastructure Trust (EGL)
Director name: Negre,Martin
Amount purchased: 72,389 @ 116.00p
Value: £83,971.24

Jersey Oil And Gas (JOG)
Director name: Lansdell,Ronald John
Amount purchased: 25,000 @ 189.45p
Value: £47,362.50

Surgical Innovations Group (SUN)
Director name: Rogers,Nigel
Amount purchased: 902,584 @ 3.99p
Value: £36,013.10

Bgeo Group (BGEO)
Director name: Loikkanen,Hanna-Leena
Amount purchased: 800 @ 3,528.00p
Value: £28,224.00

Land Securities Group (LAND)
Director name: Cadbury,Nicholas
Amount purchased: 2,700 @ 918.20p
Value: £24,791.40

Maistro (MAIS)
Director name: Rowe,David
Amount purchased: 500,000 @ 4.60p
Value: £23,000.00

Inmarsat (ISAT)
Director name: Peled,Abe
Amount purchased: 4,850 @ $5.80
Value: $20,758.62

Inmarsat (ISAT)
Director name: Peled,Abe
Amount purchased: 4,800 @ $5.85
Value: $20,721.72

Mayan Energy Limited (di) (MYN)
Director name: Gonzalez,Heriberto ("Eddie")
Amount purchased: 2,200,000 @ 0.87p
Value: £19,140.00

Avacta Group (AVCT)
Director name: Smith,Alastair
Amount purchased: 35,800 @ 41.92p
Value: £15,007.36

Augmentum Fintech (AUGM)
Director name: Brade ,Karen
Amount purchased: 8,842 @ 101.62p
Value: £8,984.80

Bp (BP.)
Director name: Gilvary,Brian
Amount purchased: 65 @ 478.20p
Value: £310.83

Schroders (SDR)
Director name: Keers,Richard
Amount purchased: 8 @ 3,433.00p
Value: £274.64

Schroders (SDR)
Director name: Harrison ,Peter
Amount purchased: 7 @ 3,433.00p
Value: £240.31

Easyjet (EZJ)
Director name: Browne ,Christine
Amount purchased: 10 @ 1,593.00p
Value: £159.30

Zotefoams (ZTF)
Director name: Stirling,David
Amount purchased: 32 @ 477.40p
Value: £152.77

Zotefoams (ZTF)
Director name: McGrath ,Gary
Amount purchased: 32 @ 477.40p
Value: £152.77

Charles Stanley Group (CAY)
Director name: Teper,Gary
Amount purchased: 44 @ 343.00p
Value: £150.92

Charles Stanley Group (CAY)
Director name: Abberley,Paul
Amount purchased: 44 @ 343.00p
Value: £150.92

Aa (AA.)
Director name: Clarke,Martin C
Amount purchased: 189 @ 79.85p
Value: £150.92

Firstgroup (FGP)
Director name: Groombridge,Jimmy
Amount purchased: 179 @ 83.82p
Value: £150.03

Go-ahead Group (GOG)
Director name: Brown,David
Amount purchased: 9 @ 1,651.00p
Value: £148.59

Go-ahead Group (GOG)
Director name: Ferguson,Carolyn
Amount purchased: 9 @ 1,651.00p
Value: £148.59

Charles Stanley Group (CAY)
Director name: Coutts,Ben Money
Amount purchased: 43 @ 343.00p
Value: £147.49

Easyjet (EZJ)
Director name: Findlay ,Andrew
Amount purchased: 9 @ 1,593.00p
Value: £143.37

Easyjet (EZJ)
Director name: Mullins,Kyla
Amount purchased: 9 @ 1,593.00p
Value: £143.37

Croda International (CRDA)
Director name: Foots,Steve
Amount purchased: 3 @ 4,630.00p
Value: £138.90

Croda International (CRDA)
Director name: Brophy ,Tom
Amount purchased: 3 @ 4,630.00p
Value: £138.90

Croda International (CRDA)
Director name: Maiden,Jez K
Amount purchased: 3 @ 4,630.00p
Value: £138.90

Cobham (COB)
Director name: Colloff,Lyn
Amount purchased: 75 @ 132.70p
Value: £99.53


Top Director Sells
Indivior (INDV)
Director name: Thaxter,Shaun
Amount sold: 551,896 @ 403.64p
Value: £2,227,683.98

Evraz (EVR)
Director name: Ivanov,Nikolay
Amount sold: 40,000 @ 443.82p
Value: £177,527.60

Costain Group (COST)
Director name: Wyllie,Andrew
Amount sold: 28,268 @ 474.00p
Value: £133,990.31

Costain Group (COST)
Director name: Bickerstaff,Anthony
Amount sold: 18,728 @ 474.00p
Value: £88,770.72

Costain Group (COST)
Director name: Wyllie,Andrew
Amount sold: 15,938 @ 476.00p
Value: £75,864.88

Intu Properties (INTU)
Director name: Fischel,David
Amount sold: 24,713 @ 212.40p
Value: £52,490.41

Costain Group (COST)
Director name: Bickerstaff,Anthony
Amount sold: 10,559 @ 476.00p
Value: £50,260.84

Bgeo Group (BGEO)
Director name: Alpaidze,Giorgi
Amount sold: 1,199 @ 3,540.00p
Value: £42,444.60

Bgeo Group (BGEO)
Director name: Alpaidze,Giorgi
Amount sold: 1,199 @ 3,540.00p
Value: £42,444.60

Intu Properties (INTU)
Director name: Roberts,Matthew
Amount sold: 19,434 @ 212.40p
Value: £41,277.82

Surgical Innovations Group (SUN)
Director name: Rogers,Nigel
Amount sold: 583,644 @ 3.99p
Value: £23,287.40

Cranswick (CWK)
Director name: Davey,Martin T P
Amount sold: 558 @ 2,986.00p
Value: £16,661.88