Director dealings: Easyjet deputy chairman picks up shares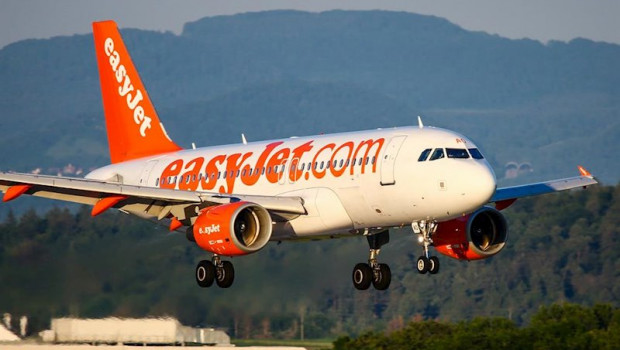 Easyjet's deputy chairman, Charles Gurassa, picked up a large batch of shares in the budget carrier on the same day as the company's latest trading statement.
Gurassa, who was also a senior independent director, acquired 90,241 ordinary shares at a price of 554.0p each for a total transaction value of £499,935.14.
Earlier on the same day, the firm said that it now expected to fly at about 40% of capacity during the fourth quarter, up from the 30% previously anticipated, and that it would record a smaller loss than in Q3.
Shares of Easyjet finished the session up by 8.75% to 551.6p.
Top Director Buys
Easyjet (EZJ)
Director name: Gurassa,Charles
Amount purchased: 90,241 @ 554.00p
Value: £499,935.14

Lloyds Banking Group (LLOY)
Director name: Chalmers,William
Amount purchased: 1,000,000 @ 26.87p
Value: £268,700.00

Babcock International Group (BAB)
Director name: Cairnie ,Ruth
Amount purchased: 10,000 @ 251.90p
Value: £25,190.00

Babcock International Group (BAB)
Director name: Lee,Myles
Amount purchased: 5,000 @ 257.18p
Value: £12,859.00

Bluebird Merchant Ventures (di) (BMV)
Director name: Patterson,Colin
Amount purchased: 626,749 @ 2.00p
Value: £12,534.98

Bluebird Merchant Ventures (di) (BMV)
Director name: Patterson,Colin
Amount purchased: 313,374 @ 3.00p
Value: £9,401.22

Bluebird Merchant Ventures (di) (BMV)
Director name: Patterson,Colin
Amount purchased: 313,374 @ 2.50p
Value: £7,834.35

Edge Performance Vct 'h' Shares (EDGH)
Director name: Goodfellow,Robin
Amount purchased: 12,000 @ 45.00p
Value: £5,400.00

Edge Performance Vct 'i' Shares (EDGI)
Director name: Goodfellow,Robin
Amount purchased: 25,000 @ 20.00p
Value: £5,000.00

Travis Perkins (TPK)
Director name: Chambers,Stuart J
Amount purchased: 253 @ 1,106.60p
Value: £2,799.70

European Assets Trust (EAT)
Director name: Perry CBE,John (Jack)
Amount purchased: 936 @ 100.21p
Value: £937.93

Travis Perkins (TPK)
Director name: Redfern,Pete
Amount purchased: 63 @ 1,106.60p
Value: £697.16

Travis Perkins (TPK)
Director name: McConville,Coline
Amount purchased: 62 @ 1,106.60p
Value: £686.09

Travis Perkins (TPK)
Director name: Illingworth,Richard Blair
Amount purchased: 60 @ 1,106.60p
Value: £663.96

Travis Perkins (TPK)
Director name: Rogers,John
Amount purchased: 57 @ 1,106.60p
Value: £630.76

Travis Perkins (TPK)
Director name: Culver,Marianne
Amount purchased: 38 @ 1,106.60p
Value: £420.51

Legal & General Group (LGEN)
Director name: Davies,Jeff
Amount purchased: 91 @ 213.80p
Value: £194.56

Legal & General Group (LGEN)
Director name: Procter,Kerrigan
Amount purchased: 91 @ 213.80p
Value: £194.56

Legal & General Group (LGEN)
Director name: Wilson,Nigel
Amount purchased: 91 @ 213.80p
Value: £194.56

Homeserve (HSV)
Director name: Rusin,Tom
Amount purchased: 14 @ 1,332.00p
Value: £181.74

Ultra Electronics Holdings (ULE)
Director name: Sclater,Jos
Amount purchased: 7 @ 2,361.33p
Value: £165.29

Marshalls (MSLH)
Director name: Coffey,Martyn
Amount purchased: 26 @ 592.80p
Value: £154.13

Marshalls (MSLH)
Director name: Clarke,Jack
Amount purchased: 26 @ 592.80p
Value: £154.13

Virgin Money Uk (VMUK)
Director name: Smith,Ian S
Amount purchased: 174 @ 86.52p
Value: £150.54

Centrica (CNA)
Director name: OÂ'Shea,Chris
Amount purchased: 308 @ 48.58p
Value: £149.63

Lsl Property Services (LSL)
Director name: Castleton ,Adam
Amount purchased: 77 @ 194.00p
Value: £149.38

Lsl Property Services (LSL)
Director name: Buck,Helen
Amount purchased: 77 @ 194.00p
Value: £149.38

Ultra Electronics Holdings (ULE)
Director name: Pryce,Simon
Amount purchased: 6 @ 2,361.33p
Value: £141.68


Top Director Sells
Xp Power Ltd. (di) (XPP)
Director name: Peters,James E
Amount sold: 25,000 @ 4,094.16p
Value: £1,023,540.50

Vivo Energy (VVO)
Director name: Chammas,Christian
Amount sold: 181,404 @ 72.87p
Value: £132,189.09

Bloomsbury Publishing (BMY)
Director name: Newton,Nigel
Amount sold: 54,146 @ 219.98p
Value: £119,109.73

Vivo Energy (VVO)
Director name: Depraetere,Johan
Amount sold: 127,550 @ 71.70p
Value: £91,453.35

Bloomsbury Publishing (BMY)
Director name: Newton,Nigel
Amount sold: 38,197 @ 200.12p
Value: £76,439.07

Henderson Alternative Strategies Trust (HAST)
Director name: Korner,Jamie
Amount sold: 24,000 @ 284.00p
Value: £68,160.00

Bloomsbury Publishing (BMY)
Director name: Newton,Nigel
Amount sold: 27,726 @ 208.81p
Value: £57,894.66