Director dealings: Crest Nicholson boss collects £1.1m from share sale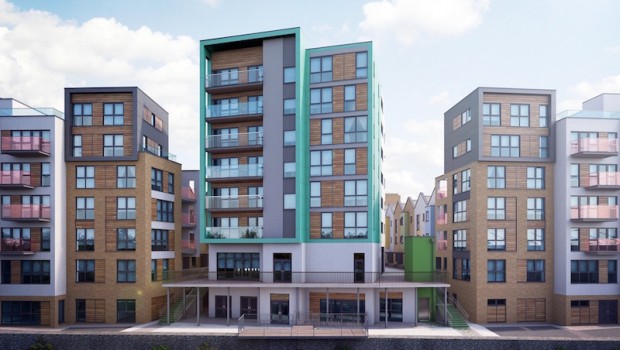 Stephen Stone, chief executive officer of residential developer Crest Nicholson, disposed of 232,889 ordinary shares in the Surrey-based firm on Thursday, pocketing more than £1.1m in the process.
Stone, who has been Crest Nicholson's chief executive since 2005, offloaded the shares with a price tag of 475p attached to each for a total transaction amount of £1,106,222.75.
The shares Stone sold were issued on 27 February 2015, when certain Directors and PDMRs were granted options under the firm's long-term incentive and deferred bonus plans that would become exercisable after three years.
In its full-year report card for the year ended 31 October 2017, Crest Nicholson posted a 7% increase in sales to £1.06m and a 5% gain in pre-tax profits, but the firm's net cash position was more than halved from £77m to £33.2m.
Upon the release of the results on 24 January, Stone said, "Our new business divisions are continuing to grow, driving increases in sales outlets and underpinning our ambitious sales target of £1.4bn in 2019."
"The new build housing market continues to be robust, sustained by strong demand for new homes, a benign land market and government policies to improve access to housing. Against this backdrop, Crest Nicholson is confident in its ability to continue delivering great homes for customers and strong returns for shareholders," he added.
As of 1600 GMT, shares had picked up 1.30% to 483.00p.
Top Director Buys
Chaarat Gold Holdings Ltd. (di) (CGH)
Director name: Andersson,Martin
Amount purchased: 2,380,000 @ 18.75p
Value: £446,250.00

Harworth Group (HWG)
Director name: Lyons CBE,Alastair
Amount purchased: 90,000 @ 110.50p
Value: £99,450.00

Burberry Group (BRBY)
Director name: NiChionna,Orna
Amount purchased: 3,067 @ 1,621.56p
Value: £49,733.24

Burberry Group (BRBY)
Director name: Frasch,Ron
Amount purchased: 885 @ 1,635.50p
Value: £14,474.17

Phoenix Global Mining Limited (di) (PGM)
Director name: Turner,Roger William
Amount purchased: 82,506 @ 4.94p
Value: £4,075.80

Phoenix Global Mining Limited (di) (PGM)
Director name: Thomas,Dennis Leslie
Amount purchased: 50,000 @ 4.85p
Value: £2,425.00

Judges Scientific (JDG)
Director name: Lavelle,Mark
Amount purchased: 99 @ 2,232.00p
Value: £2,209.68

Hml Holdings (HMLH)
Director name: Howgego,James
Amount purchased: 6,600 @ 30.00p
Value: £1,980.00

Grainger (GRI)
Director name: Simms,Vanessa
Amount purchased: 112 @ 269.60p
Value: £301.95

Grainger (GRI)
Director name: Gordon,Helen
Amount purchased: 112 @ 269.60p
Value: £301.95

Mondi (MNDI)
Director name: King,Andrew
Amount purchased: 8 @ 1,973.83p
Value: £157.91

Judges Scientific (JDG)
Director name: Cicurel,David
Amount purchased: 7 @ 2,232.00p
Value: £156.24

Barr (a.g.) (BAG)
Director name: White,Roger Alexander
Amount purchased: 24 @ 639.50p
Value: £153.48

Barr (a.g.) (BAG)
Director name: Kemp,Jonathan David
Amount purchased: 23 @ 639.50p
Value: £147.08

Barr (a.g.) (BAG)
Director name: Lorimer,Stuart
Amount purchased: 23 @ 639.50p
Value: £147.08

Barr (a.g.) (BAG)
Director name: Memmott,Andrew Lewis
Amount purchased: 23 @ 639.50p
Value: £147.08

Judges Scientific (JDG)
Director name: Ormsby,Bradley Leonard
Amount purchased: 6 @ 2,232.00p
Value: £133.92

Fidessa Group (FDSA)
Director name: Waltho,Jonathan
Amount purchased: 2 @ 3,725.00p
Value: £74.50


Top Director Sells
Crest Nicholson Holdings (CRST)
Director name: Stone,Stephen
Amount sold: 232,889 @ 475.00p
Value: £1,106,222.75

Croda International (CRDA)
Director name: Foots,Steve
Amount sold: 21,181 @ 4,434.28p
Value: £939,224.85

Croda International (CRDA)
Director name: Maiden,Jez K
Amount sold: 10,956 @ 4,434.28p
Value: £485,819.72

Crest Nicholson Holdings (CRST)
Director name: Tinker,Chris
Amount sold: 75,588 @ 475.00p
Value: £359,043.00

Crest Nicholson Holdings (CRST)
Director name: Bergin,Patrick
Amount sold: 61,624 @ 475.00p
Value: £292,714.00

Harworth Group (HWG)
Director name: Cox,Jonson
Amount sold: 150,000 @ 110.00p
Value: £165,000.00

Croda International (CRDA)
Director name: Brophy ,Tom
Amount sold: 3,705 @ 4,434.28p
Value: £164,290.07

Smith & Nephew (SN.)
Director name: Bohuon,Olivier
Amount sold: 8,171 @ 1,301.45p
Value: £106,341.48

Smith & Nephew (SN.)
Director name: Bohuon,Olivier
Amount sold: 6,671 @ 1,301.45p
Value: £86,819.73

Lok'n Store Group (LOK)
Director name: Thomas,Simon
Amount sold: 20,000 @ 390.00p
Value: £78,000.00

Titon Holdings (TON)
Director name: Ruffell,David
Amount sold: 10,500 @ 203.10p
Value: £21,325.50

Titon Holdings (TON)
Director name: Ruffell,David
Amount sold: 7,000 @ 200.00p
Value: £14,000.00

Hml Holdings (HMLH)
Director name: Howgego,James
Amount sold: 6,600 @ 30.00p
Value: £1,980.00