Director dealings: Burberry CEO makes share sale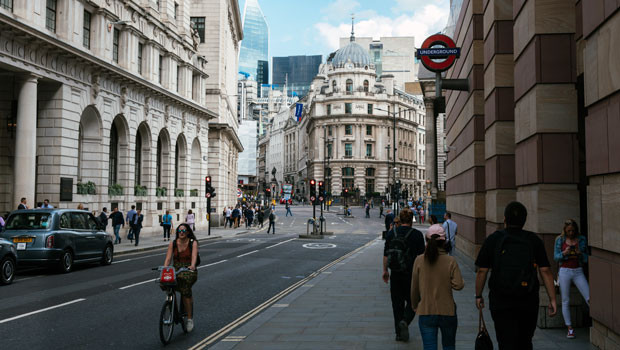 Burberry revealed on Thursday that chief executive Jonathan Akeroyd had sold 49,037 ordinary shares in the FTSE 100-listed fashion house.
Akeroyd, who sold the shares in order to cover tax and fees arising from the vesting and acquisition of an award granted to him on 15 March following his resignation from his former employer, disposed of the shares at an average price of 1,619.08p each, for a total value of £793,948.06.
Back in May, Burberry said its full-year outlook hinged on how fast China bounced back from Covid-19 lockdowns, as 2022 fiscal-year profits and revenues rose. Burberry maintained medium-term guidance of high single-digit revenue growth but said its outlook was "dependent on the impact of Covid-19" and the rate of recovery in consumer spending in Mainland China.
As of 1540 BST, Burberry shares were down 4.90% at 1,612.0p.
Reporting by Iain Gilbert at Sharecast.com
Top Director Buys
3i Group (III)
Director name: Daintith,Stephen
Amount purchased: 8,850 @ 1,112.00p
Value: £98,412.00

M&g (MNG)
Director name: Braham,Edward
Amount purchased: 20,075 @ 197.35p
Value: £39,618.01

M&g (MNG)
Director name: Braham,Edward
Amount purchased: 20,075 @ 197.35p
Value: £39,618.01

Rolls-royce Holdings (RR.)
Director name: East,Warren
Amount purchased: 29,552 @ 81.81p
Value: £24,176.49

Trinity Exploration & Production (TRIN)
Director name: Clayton,Nicholas
Amount purchased: 20,000 @ 102.40p
Value: £20,480.00

Oilex Ltd. (OEX)
Director name: Schwarz,Peter
Amount purchased: 10,611,250 @ 0.17p
Value: £17,508.56

Foxtons Group (FOXT)
Director name: Rich CBE,Nigel
Amount purchased: 37,687 @ 33.00p
Value: £12,436.71

Rolls-royce Holdings (RR.)
Director name: Kakoullis ,Panos
Amount purchased: 14,199 @ 81.81p
Value: £11,616.20

Uil Limited (di) (UTL)
Director name: Bridges,Stuart J
Amount purchased: 5,589 @ 202.50p
Value: £11,317.73

Bellevue Healthcare Trust (red) (BBH)
Director name: Grewal ,Randeep Singh
Amount purchased: 7,075 @ 149.60p
Value: £10,584.20

Tavistock Investments (TAVI)
Director name: Cooke,Oliver Charles
Amount purchased: 132,244 @ 7.97p
Value: £10,539.85

Utilico Emerging Markets Ltd (di) (UEM)
Director name: Muh,Anthony
Amount purchased: 4,381 @ 209.00p
Value: £9,156.29

Utilico Emerging Markets Ltd (di) (UEM)
Director name: Hansen,Susan
Amount purchased: 4,381 @ 209.00p
Value: £9,156.29

Uil Limited (di) (UTL)
Director name: Shillson,David
Amount purchased: 4,324 @ 202.50p
Value: £8,756.10

Uil Limited (di) (UTL)
Director name: Hill,Alison
Amount purchased: 4,324 @ 202.50p
Value: £8,756.10

Utilico Emerging Markets Ltd (di) (UEM)
Director name: Stobart,Eric St Clair
Amount purchased: 4,000 @ 209.44p
Value: £8,377.60

Golden Prospect Precious Metals Ltd. (GPM)
Director name: King,Robert P.
Amount purchased: 20,000 @ 38.50p
Value: £7,700.00

Bellevue Healthcare Trust (red) (BBH)
Director name: Dixon,Josephine
Amount purchased: 4,663 @ 149.60p
Value: £6,975.85

Utilico Emerging Markets Ltd (di) (UEM)
Director name: Rennocks,John
Amount purchased: 3,245 @ 210.44p
Value: £6,828.63

Bellevue Healthcare Trust (red) (BBH)
Director name: Bolsover,Kate
Amount purchased: 3,774 @ 149.60p
Value: £5,645.90

Utilico Emerging Markets Ltd (di) (UEM)
Director name: Bridgeman,Mark
Amount purchased: 2,628 @ 209.00p
Value: £5,492.52

Bellevue Healthcare Trust (red) (BBH)
Director name: Southgate,Paul
Amount purchased: 3,458 @ 149.60p
Value: £5,173.17

Bellevue Healthcare Trust (red) (BBH)
Director name: Young,Tony
Amount purchased: 3,458 @ 149.60p
Value: £5,173.17

European Assets Trust (EAT)
Director name: Perry CBE,John (Jack)
Amount purchased: 5,297 @ 93.63p
Value: £4,959.58

Itv (ITV)
Director name: Harris,Mary
Amount purchased: 3,943 @ 65.56p
Value: £2,585.03

Mortgage Advice Bureau (holdings) (MAB1)
Director name: Imlach,Nathan James McLean
Amount purchased: 183 @ 895.00p
Value: £1,637.85


Top Director Sells
Burberry Group (BRBY)
Director name: Akeroyd,Jonathan
Amount sold: 49,037 @ 1,619.08p
Value: £793,948.06

Porvair (PRV)
Director name: Stocks,Ben
Amount sold: 2,754 @ 625.00p
Value: £17,212.50

Oilex Ltd. (OEX)
Director name: Schwarz,Peter
Amount sold: 10,611,250 @ 0.16p
Value: £16,447.44

Churchill China (CHH)
Director name: Roper,James Andrew
Amount sold: 900 @ 1,400.00p
Value: £12,600.00

Billington Holdings (BILN)
Director name: Smith ,Mark
Amount sold: 2,297 @ 216.00p
Value: £4,961.52

Billington Holdings (BILN)
Director name: Taylor,Trevor
Amount sold: 1,811 @ 216.00p
Value: £3,911.76