Director dealings: Bonhill CEO ups stake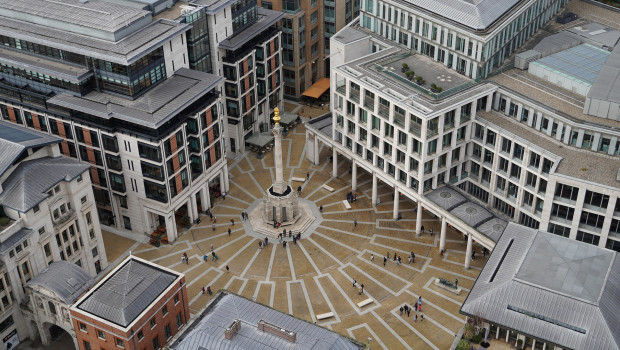 Bonhill Group revealed on Tuesday that chief executive Simon Stilwell had purchased 145,000 ordinary shares in the AIM-listed business-to-business media company.
Stilwell, who co-founded investment bank Liberum back in 2007, acquired the shares at an average price of 28p each, for a total value of £40,600.
Following the purchase, Stilwell was interested in 865,500 ordinary Bonhill shares, representing approximately 1.78% of the company's issued share capital.
As of 1630 GMT, Bonhill shares were up 0.88% at 28.75p.
Top Director Buys
Quarto Group Inc. (QRT)
Director name: Lau,Chuk Kin
Amount purchased: 7,720,154 @ 68.00p
Value: £5,249,704.78

Banco Santander S.a. (BNC)
Director name: Botin,Francisco Javier
Amount purchased: 1,000,000 @ 3.66
Value: 3,206,026.70

Mercia Technologies (MERC)
Director name: Chamberlain,Raymond Kenneth
Amount purchased: 6,149,752 @ 26.60p
Value: £1,635,834.05

Quarto Group Inc. (QRT)
Director name: Lau,Chuk Kin
Amount purchased: 1,679,743 @ 68.00p
Value: £1,142,225.25

Prime People (PRP)
Director name: Lewis,John
Amount purchased: 68,550 @ 95.05p
Value: £65,156.78

Bonhill Group (BONH)
Director name: Stilwell,Simon
Amount purchased: 145,000 @ 28.00p
Value: £40,600.00

Jangada Mines (JAN)
Director name: Azevedo,Luis Mauricio Ferraiuoli de
Amount purchased: 1,400,000 @ 1.80p
Value: £25,200.00

Jangada Mines (JAN)
Director name: McMaster,Brian Keith
Amount purchased: 1,400,000 @ 1.80p
Value: £25,200.00

Ironveld (IRON)
Director name: Harrison,John Nicholas
Amount purchased: 2,750,000 @ 0.74p
Value: £20,350.00

Hummingbird Resources (HUM)
Director name: Betts,Stephen A.
Amount purchased: 82,682 @ 23.80p
Value: £19,678.32

Hummingbird Resources (HUM)
Director name: Betts,Stephen A.
Amount purchased: 82,377 @ 23.80p
Value: £19,605.73

Tiziana Life Sciences (TILS)
Director name: Cerrone,Gabriele
Amount purchased: 25,000 @ $0.47
Value: $9,257.82

Volta Finance Limited (VTA)
Director name: Meader,Paul
Amount purchased: 1,183 @ 6.60
Value: 7,807.80

Volta Finance Limited (VTA)
Director name: Page,Stephen Le
Amount purchased: 1,040 @ 6.60
Value: 6,864.00

Volta Finance Limited (VTA)
Director name: Harrison,Graham
Amount purchased: 926 @ 6.60
Value: 6,111.60

Volta Finance Limited (VTA)
Director name: Varotsis,Paul
Amount purchased: 926 @ 6.60
Value: 6,111.60

Volta Finance Limited (VTA)
Director name: Moini,Atosa
Amount purchased: 867 @ 6.60
Value: 5,722.20

Cyanconnode Holdings (CYAN)
Director name: Tyler,Peter
Amount purchased: 95,000 @ 3.20p
Value: £3,040.00

Ultra Electronics Holdings (ULE)
Director name: Pryce,Simon
Amount purchased: 7 @ 2,273.39p
Value: £159.14

Premier Oil (PMO)
Director name: Rose ,Richard
Amount purchased: 154 @ 98.20p
Value: £151.23

Centrica (CNA)
Director name: OÂ'Shea,Chris
Amount purchased: 175 @ 86.15p
Value: £150.76

Centrica (CNA)
Director name: Hookway,Richard
Amount purchased: 175 @ 86.15p
Value: £150.76

Marshalls (MSLH)
Director name: Coffey,Martyn
Amount purchased: 19 @ 792.00p
Value: £150.48

Marshalls (MSLH)
Director name: Clarke,Jack
Amount purchased: 19 @ 792.00p
Value: £150.48

Centrica (CNA)
Director name: Conn,Iain C
Amount purchased: 174 @ 86.15p
Value: £149.90

Ultra Electronics Holdings (ULE)
Director name: Sclater,Jos
Amount purchased: 6 @ 2,273.39p
Value: £136.40

Premier Oil (PMO)
Director name: Durrant ,Tony
Amount purchased: 129 @ 98.20p
Value: £126.68

Premier Oil (PMO)
Director name: Allan,Robin
Amount purchased: 128 @ 98.20p
Value: £125.70


Top Director Sells
Mercia Technologies (MERC)
Director name: Chamberlain,Raymond Kenneth
Amount sold: 6,149,752 @ 26.60p
Value: £1,635,834.05

Prime People (PRP)
Director name: Lewis,John
Amount sold: 68,550 @ 95.00p
Value: £65,122.50

Cyanconnode Holdings (CYAN)
Director name: Tyler,Peter
Amount sold: 190,000 @ 3.20p
Value: £6,080.00