Director dealings: Berkeley board members make some big purchases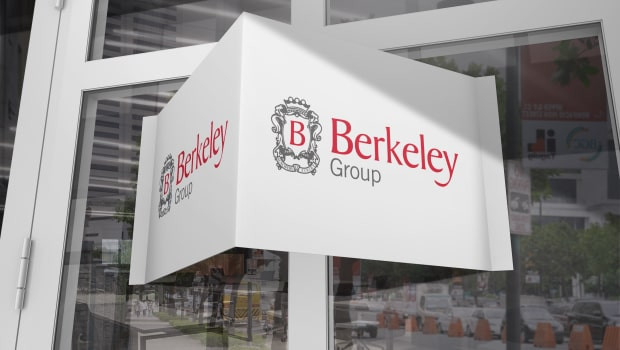 Berkeley Group was at the top of the list of director deals on Thursday afternoon, after four of its board members were linked to large purchases.
The FTSE 100 housebuilder said its chief executive Rob Perrins was associated with the purchase of 50,000 shares on Wednesday.
It said each share was bought for 3,695.29p, valuing the transaction at a total of £1,847,644.81.
The shares were purchased by Rob and Vanessa Perrins, "as trustees of the Robert Perrins Discretionary Settlement", the company explained.
Elsewhere, Berkeley non-executive director William Jackson and his "associate", Jane Jackson, bought 16,148 shares on Wednesday.
The Jacksons paid 3,657.21p for each share, spending a total of £590,566.42 on the investment.
Another non-executive director, Michael Dobson, spent £144,686.55 on 4,000 shares at 3,617,16p apiece, also on Wednesday.
Finally, the company said Julia Barker - associated with chairman Glyn Barker - purchased a total of 1,950 shares on Wednesday across two transactions.
Barker paid an average of 3,726.53p for each share, giving the purchase a value of £77,667.34.
Reporting by Josh White at Sharecast.com.
Top Director Buys
Berkeley Group Holdings (the) (BKG)
Director name: Perrins,Robert C G
Amount purchased: 50,000 @ 3,695.29p
Value: £1,847,644.81

Berkeley Group Holdings (the) (BKG)
Director name: Jackson,William
Amount purchased: 16,148 @ 3,657.21p
Value: £590,566.42

Gaming Realms (GMR)
Director name: Blandford,Mark
Amount purchased: 650,582 @ 24.00p
Value: £156,139.68

Record (REC)
Director name: Hill,Leslie
Amount purchased: 206,252 @ 70.94p
Value: £146,305.27

Berkeley Group Holdings (the) (BKG)
Director name: Dobson,Michael W R
Amount purchased: 4,000 @ 3,617.16p
Value: £144,686.55

Adriatic Metals (ADT1)
Director name: Cronin,Paul
Amount purchased: 100,000 @ $1.94
Value: $102,683.59

Smith (ds) (SMDS)
Director name: Drabble,Geoffrey
Amount purchased: 17,445 @ 286.60p
Value: £49,997.37

National Express Group (NEX)
Director name: Davies,Chris
Amount purchased: 15,000 @ 204.80p
Value: £30,720.00

Harbourvest Global Private Equity Limited A Shs (HVPE)
Director name: Espinal,Carolina
Amount purchased: 1,341 @ 2,008.00p
Value: £26,927.28

Taylor Wimpey (TW.)
Director name: Dorner,Irene
Amount purchased: 21,750 @ 115.02p
Value: £25,016.20

Taylor Wimpey (TW.)
Director name: Daly,Jennie
Amount purchased: 21,509 @ 115.36p
Value: £24,812.57

Brown (n.) Group (BWNG)
Director name: Johnson,Steve
Amount purchased: 68,900 @ 27.20p
Value: £18,740.80

Record (REC)
Director name: Cullen,Steve
Amount purchased: 12,226 @ 70.94p
Value: £8,672.54

Fireangel Safety Technology Group (FA.)
Director name: Conoley,John
Amount purchased: 80,000 @ 10.67p
Value: £8,536.00

Team (TEAM)
Director name: Clubb,Jonathan Mark Gordon
Amount purchased: 5,004 @ 63.90p
Value: £3,197.56

Brown (n.) Group (BWNG)
Director name: Johnson,Steve
Amount purchased: 4,000 @ 26.70p
Value: £1,068.00

Integrafin Holding (IHP)
Director name: Gunby,Jonathan
Amount purchased: 61 @ 245.00p
Value: £149.45

Integrafin Holding (IHP)
Director name: Scott,Alexander
Amount purchased: 61 @ 245.00p
Value: £149.45


Top Director Sells
Gaming Realms (GMR)
Director name: Buckley,Michael
Amount sold: 1,000,000 @ 25.60p
Value: £256,000.01

Industrials Reit Limited (MLI)
Director name: Beaumont ,James
Amount sold: 121,021 @ 171.50p
Value: £207,551.02

Marks & Spencer Group (MKS)
Director name: Machin,Stuart
Amount sold: 99,121 @ 137.01p
Value: £135,805.68

Industrials Reit Limited (MLI)
Director name: Watson,Patricia
Amount sold: 22,073 @ 172.50p
Value: £38,075.93