Director dealings: DCC chairman designate makes share purchase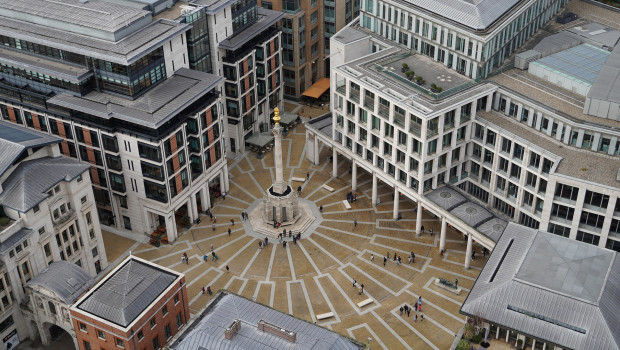 DCC said on Thursday that chairman designate Mark Breuer had acquired 3,500 ordinary shares in the FTSE 100-listed sales, marketing and support services company.
Breuer, who will succeed current chairman John Moloney on 16 July, purchased the shares on Tuesday at an average price of 6,145.0p each, for a total value of £215,075.
Also on Tuesday, DCC reported a 9.1% decline in revenue in its full-year results to £13.41bn, although group adjusted operating profit rose 7.3% to £530.2m, ahead of market expectations.
As of 1625 BST, DCC shares were up 2.61% at 6,208.0p.
Top Director Buys
Dcc (cdi) (DCC)
Director name: Breuer ,Mark
Amount purchased: 3,500 @ 6,145.00p
Value: £215,075.00

Experian (EXPN)
Director name: Howell,Jonathan
Amount purchased: 4,000 @ 2,562.59p
Value: £102,503.68

888 Holdings (888)
Director name: Mendelsohn,Jonathan (Jon)
Amount purchased: 26,000 @ 384.70p
Value: £100,022.00

W H Ireland Group (WHI)
Director name: Shelley,Phillip
Amount purchased: 110,343 @ 58.00p
Value: £63,998.94

S4 Capital (SFOR)
Director name: Sorrell,Martin
Amount purchased: 10,000 @ 513.00p
Value: £51,300.00

Homeserve (HSV)
Director name: Donnelly,Roisin
Amount purchased: 5,000 @ 931.10p
Value: £46,555.00

Cadogan Petroleum (CAD)
Director name: Khallouf,Fady
Amount purchased: 988,424 @ 4.20p
Value: £41,513.81

Fireangel Safety Technology Group (FA.)
Director name: Conoley,John
Amount purchased: 102,485 @ 20.48p
Value: £20,988.93

W H Ireland Group (WHI)
Director name: Wale,Phillip
Amount purchased: 29,295 @ 58.00p
Value: £16,991.10

Taseko Mines Limited Npv (di) (TKO)
Director name: Dhir,Anu
Amount purchased: 8,000 @ $3.15
Value: $14,908.61

Mirriad Advertising (MIRI)
Director name: Lynn Skinner,Kelsey
Amount purchased: 12,000 @ 53.40p
Value: £6,408.00

Fireangel Safety Technology Group (FA.)
Director name: Conoley,John
Amount purchased: 25,000 @ 20.50p
Value: £5,125.00

Serinus Energy Npv (SENX)
Director name: Rędziniak,Łukasz
Amount purchased: 185,000 @ 2.60p
Value: £4,810.00

Cadogan Petroleum (CAD)
Director name: Khallouf,Fady
Amount purchased: 100,000 @ 4.20p
Value: £4,200.00

Gran Tierra Energy Inc. (cdi) (GTE)
Director name: Guidry,Gary
Amount purchased: 6,049 @ $0.68
Value: $3,391.87

Gran Tierra Energy Inc. (cdi) (GTE)
Director name: Ellson,Ryan
Amount purchased: 4,284 @ $0.68
Value: $2,402.18

Johnson Matthey (JMAT)
Director name: MacLeod,Robert
Amount purchased: 12 @ 3,172.96p
Value: £380.76

Jpmorgan Japan Small Cap Growth & Income (JSGI)
Director name: Henderson,Alexa
Amount purchased: 59 @ 483.52p
Value: £285.28

Funding Circle Holdings (FCH)
Director name: Desai,Samir
Amount purchased: 103 @ 146.43p
Value: £150.82

C&c Group (cdi) (CCR)
Director name: McMahon,Patrick
Amount purchased: 41 @ 296.00p
Value: £121.36


Top Director Sells