Numerous bearish predictions for Bitcoin´s price: $28,000, $25,000, $20,000...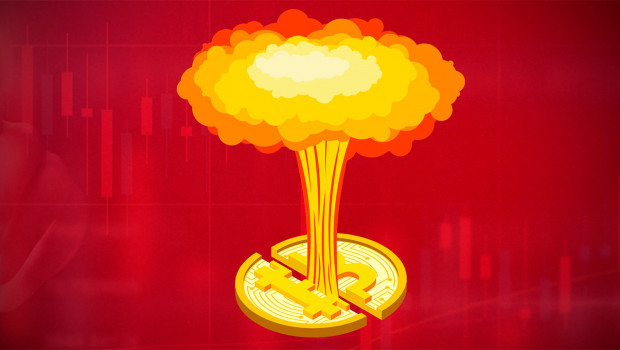 The recent behavior of the cryptocurrency market, which has been dragged down by the wave of sales in risky securities, is keeping investors on edge, as the mass flight of investors from these assets is taking its toll on digital tokens where $400 billion has evaporated in less than a week. So much so, that Bitcoin and many of the 'altcoins' have already marked new annual lows in the days that have elapsed in May, while the total value has plummeted below $1.5 trillion.
This behavior sows panic among traders, who continue to get rid of their positions in crypto currencies, where positions worth $260 million were liquidated in a matter of 24 hours between Sunday and Monday. A sentiment that is not helped by recognized voices within the sector, such as the founder of the Cardano network (ADA), Charles Hoskinson, who assured that the market has entered a bearish phase during which no important announcement or news will change the depreciating trend.
For Naeem Aslam, an analyst at Avatrade, the recent behavior of Bitcoin and the other tokens shows that the 'bulls' have lost control of the price even more and it seems very likely that Bitcoin will retest the $30,000 mark - that it approached on Monday. "Technically, the structure of Bitcoin is bearish, as the lows and highs persist," Marcus Sotiriou, an analyst at GlobalBlock, added.
At the end of March, Bitcoin was looking positive after breaking through resistance at $45,785. However, the turnaround was immediate and in less than two months it has fallen 32%. It is now more than 50% below its all-time high (ATH) set in November last year.
"The loss of the $33,000 support complicates its technical aspect in the short term and makes us think of an extension of the descents to the $29,290 level, like in July of last year," predicted César Nuez, technical analyst at Bolsamanía and head of Trader Watch. "Be very careful with the abandonment of this price level as we could end up seeing a long-term trend change."
Sotiriou added that the region near the lower end of the range, $28,000 to $32,000, "could be a good area to add to long-term holdings from a risk-reward perspective." However, should it touch those levels, there is a danger of giving up to $25,000, according to the view of cryptoasset exchange Luno. Some are even warning that $20,000 could come into play.
The concern now for cryptoasset investors "is when the fall will end in an adverse environment where investment markets are struggling to decide where comfortable levels are in the wake of planned interest rate hikes to quell rising inflation across the Western world," noted Simon Peters, an analyst at eToro.
The market is now moving closer to large risk assets, such as technology stocks, among others. "This is indicative of the significant shift in the presence of institutions within the cryptoasset market, which now represent a much larger proportion of ownership and tend to bundle their 'crypto' decision making with other major assets," eToro experts commented.
While perhaps not a boon for cryptoasset investors facing significant downside, there is a broader point here: retail investors are no longer alone in facing the market, and the very presence of institutions as holders is positive for value and long-term potential.
BULLISH ON-CHAIN AND FUNDAMENTAL ANALYSIS
Experts also highlight that, despite the bearish outlook, market fundamentals are in excellent shape. Technological developments on blockchain, DeFi (decentralized finance) or non-fungible tokens are experiencing a very sweet moment, while venture capital entering these projects is at a record high, as the experts at Palm Beach Research stressed. These experts believe that this shows that the sell-off is solely the fault of the Federal Reserve (Fed) and its monetary tightening, so they advise holding positions.
Blockchain metrics (the 'on-chain' analysis) remain incredibly bullish, as the percentage of Bitcoins that have not moved in a year is now at an all-time high. "This indicates that the proportion of Bitcoin holders who are long-term HODLers is increasing, which is positive as it shows that short-term holders are selling to those with long-term conviction," Sotiriou concluded.