Ethereum plummets on 'merger' doubts and drags Bitcoin down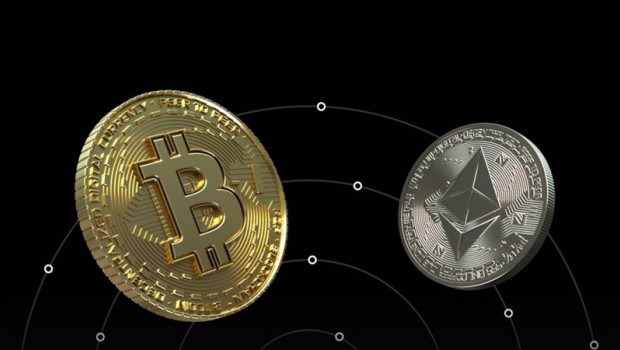 The calm that settled in the cryptocurrency market during recent days, with the main assets consolidating the steep falls of May 11th and 12th, in the heat of the collapse of Terra and its UST and LUNA tokens, broke on Thursday. Ethereum managed to trim its declines on Friday, after coming off nearly 10% in the last 24 hours, dragging Bitcoin and other tokens to two-week lows, following news of problems on the so-called 'Beacon' chain, responsible for switching Ethereum's protocol to the less polluting proof-of-stake model. Bitcoin pierced $28,500 in intraday range, but closed above $29,000, where it remains.
As for Ethereum, the outlook is rather more bleak and the projection of technical analysts' falls is at $1,500. At the moment, it has fallen below $1,730, price levels not seen since July 20th, 2021. The 10-month lows make experts think that the decline is not over. However, it rebounded to $1,770.
As reported by specialized media, the Ethereum Beacon Chain, which is ready to introduce the new model and abandon the proof-of-work protocol on the blockchain, underwent a deep reorganization of 7 blocks in the last 24 hours. A block reorganization occurs due to a discrepancy in block ordering, usually resulting from malicious activity or a bug.
Apparently, the latter was the cause, and that shows that Ethereum's upcoming proof-of-stake change may not be as stable as its founder Vitalik Buterin espouses. Ultimately, this is another blow to the digital currencies market, much weakened after the deep sell-off in the wake of the Terra debacle.
"Many investors are starting to doubt that Ethereum 2 will succeed," commented Edward Moya, an analyst at Oanda. "The Ethereum 2 merger was delayed until August, but it won't really allow Ethereum to scale, as it will use a multi-chain system and connect to a number of layer 2 scaling solutions. Ethereum has too many competitors that can do a better job and this latest update could force people to jump ship," the expert pointed out.
The impending expiration of several options contracts this week also caused chaos in the Ethereum futures market and the token has seen an abnormally large amount of liquidations during the last 12 hours, some $118 million-more than double those seen by Bitcoin. Nearly 97% of these were long positions, indicating that traders were broadly positioning themselves for a recovery in the Ethereum token.
However, the expected recovery did not occur. Cryptocurrencies continue to retreat from the peak of activity, with Bitcoin's daily volatility below 44%, down from 81.18% for the month, while Ethereum stands at 52.54% versus 96.78%. "Arguably most notable is the magnitude of the slowdown in price action," stated Michael Hewson, analyst at CMC Markets.