Analysts divided on Bitcoin after US ETF: $70,000, $100,000 or profit-taking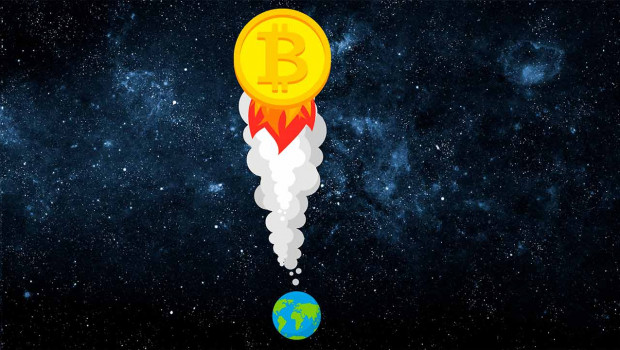 Bitcoin's meteoric rise to more than 40% in October, possibly leading to a record high in April, could lead to widespread profit-taking if the stock market maxim of "buy on the rumor, sell on the news" holds true. Bitcoin´s first US ETF debut represents a historical moment for the digital asset and the cryptocurrency market. In addition, market consensus points to this fact as one of the main causes for this month's rally. The big question now is whether investors will continue to stretch the price above $65,000 or whether they will take advantage of any small bump the ProShares fund experiences to dive for profit-taking.
Expectation around the debut of this investment vehicle was at its peak, as analysts claimed the milestone as a massive trigger for the cryptoverse than the purchase of $1.5 billion in Bitcoins by Tesla founder Elon Musk in February. But now that the regulatory hurdle has been cleared, the focus shifts to investor reaction.
In this regard, strong demand for Bitcoin´s US ETFs is what is needed to help the queen of cryptos break the record high of around $65,000 in April. "If traders see the exchange-traded fund's performance as promising, near-term resistance could come from the $70,000 level," comments Edward Moya, an analyst at Oanda. Conversely, "the low trading volumes of these vehicles could trigger a sell-off into low-margin market territory," he adds.
However, the past behavior of Satoshi Nakamoto's creation raises fears of widespread profit-taking, whatever the US ETF's outcome. When the first futures contracts saw the light of day on the Chicago Mercantile Exchange (CME) on Dec. 17, 2017, Bitcoin reached $20,000 after a 2,000% rise during the previous two months. But it then triggered a low-margin market that lasted a year.
In fact, in 2021 we are seeing homologous behavior. In addition to the aforementioned Tesla and Musk deal, the rise to an all-time high at the start of the second quarter, the debut of crypto trading platform Coinbase on the Nasdaq on April 14 spurred buying. The cryptocurrency fell to $30,000 the following month, dynamited in large part by Tesla's CEO, but also by profit-taking.
However, "all indicators seem to point to the market continuing its uptrend for the time being, at least until it hits $66,000 or $67,000, where it looks like it may encounter the first major resistance on its way to $100,000," states Alvaro Alcañiz Rubio, CMO and co-founder of Onyze. "Now it's time to think about this next psychological level," adds Alejandro Zala, Bitpanda's country manager in Spain. "Everything indicates that we are already in a new bullish cycle, what we do not know is its duration and its price limit," he declares. With a similar opinion, the panel of 50 experts consulted by Finder.com forecasts that the price will peak at $80,021 this year, before falling to $71,415 by the end of 2021.
At new highs, "many investors will likely take profits, leading to a rebound in Bitcoin's valuation," Alcañiz adds. Zala also warns that "in these bullish cycles there are also corrections". And he points out that "when they come, you have to think about whether the fundamentals of this trend are solid or simply the result of speculation. The news of the last few weeks is very positive and seems optimistic that this cycle will be very positive".
In the event of a market correction like the one experienced between May and July, the experts consulted find it difficult to guess how far the valuation could fall. "Everything seems to point to the fact that with each step forward that the market takes, increasingly robust supports are generated, so it is possible that certain heights will not be seen again", concludes Alcañiz.