Week ahead: BoE, Global PMIs in the spotlight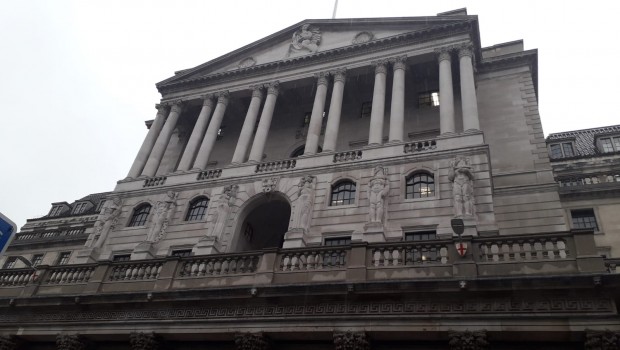 The coming week's focus in financial markets will be on the Bank of England policy meeting on Thursday.
No change in policy is anticipated, but investors will be keen to see if the Monetary Policy Committee's thinking has been impacted in any way by the shift in thinking among their counterparts across the Pond at the US Federal Reserve.
On the day before, on Wednesday that is, investors will be pouring over a raft of manufacturing and services sector purchasing managers' surveys out of the euro area, UK and US.
Investors should also pencil into their diaries Fed chair Jerome Powell's testimony before the US House of Representatives, on Tuesday.
UK public sector net borrowing figures are also due out on Tuesday.
The results of the US Treasury debt auctions scheduled for Tuesday (two-year), Wednesday (five-year) and Thursday (seven-year) will also be closely monitored.
Lastly, Friday will bring with it US personal income and spending data for May, together with a final reading on US consumer confidence in June, the latter courtesy of the University of Michigan.
Monday 21 June
QUARTERLY PAYMENT DATE
Royal Dutch Shell 'A', Royal Dutch Shell 'B'
GMS
Gresham Technologies
FINALS
BrandShield Systems, Sysgroup, Sysgroup
ANNUAL REPORT
TP Group
SPECIAL DIVIDEND PAYMENT DATE
Pembroke Vct B
AGMS
Borders & Southern Petroleum, Gresham House Energy Storage Fund, ICG Enterprise Trust, Randall & Quilter Investment Holdings (DI)
FINAL DIVIDEND PAYMENT DATE
Inchcape, Investec Non-Red Non-Cum Non-Part Prf Shs
Tuesday 22 June
INTERNATIONAL ECONOMIC ANNOUNCEMENTS
Existing Home Sales (US) (15:00)
FINALS
Gear4music (Holdings), Novacyt S.A. (CDI), Smith (DS), Staffline Group, Trackwise Designs , Trifast
AGMS
Bisichi , Caerus Mineral Resources , CEPS, Coca-Cola HBC AG (CDI), Cora Gold Limited (DI), EPE Special Opportunities Limited (DI), Frenkel Topping Group, Huatai Securities Co., Ltd GDR (Each Repr 10 A Shs RMB1) (Reg S) , Intelligent Ultrasound Group , Invesco Bond Income Plus Limited NPV, Morses Club , RTW Venture Fund Limited NPV, Surgical Innovations Group
UK ECONOMIC ANNOUNCEMENTS
Public Sector Net Borrowing (07:00)
Wednesday 23 June
INTERIM DIVIDEND PAYMENT DATE
Fidelity Special Values
INTERIM EX-DIVIDEND DATE
Barloworld Ltd.
INTERNATIONAL ECONOMIC ANNOUNCEMENTS
Crude Oil Inventories (US) (15:30)
Current Account (US) (13:30)
MBA Mortgage Applications (US) (12:00)
New Homes Sales (US) (15:00)
FINALS
Berkeley Group Holdings (The), Liontrust Asset Management, Manolete Partners
SPECIAL EX-DIVIDEND DATE
Barloworld Ltd.
AGMS
1Spatial, 1Spatial, Angling Direct , Braime Group, Braime Group 'A'NON.V , Clontarf Energy , Dignity, Directa Plus, ECSC Group, Harbour Energy , JKX Oil & Gas, North Atlantic Smaller Companies Inv Trust, Oriole Resources , Pebble Beach Systems Group , Velocys plc, Vertu Motors, Woodbois Limited
TRADING ANNOUNCEMENTS
Joules Group
FINAL EX-DIVIDEND DATE
Medica Group
Thursday 24 June
INTERIM EX-DIVIDEND DATE
Duke Royalty Limited, Gooch & Housego, Income & Growth VCT , RWS Holdings
QUARTERLY PAYMENT DATE
Diversified Energy Company
QUARTERLY EX-DIVIDEND DATE
Alpha Real Trust Ltd., Mercantile Investment Trust (The), NB Global Monthly Income Fund Limited Red Ord Shs NPV £, Standard Life Private Equity Trust
INTERNATIONAL ECONOMIC ANNOUNCEMENTS
Continuing Claims (US) (13:30)
Durable Goods Orders (US) (13:30)
Gross Domestic Product (US) (13:30)
IFO Business Climate (GER) (09:00)
IFO Current Assessment (GER) (09:00)
IFO Expectations (GER) (09:00)
Import Price Index (GER) (07:00)
Initial Jobless Claims (US) (13:30)
Personal Consumption Expenditures (US) (13:30)
GMS
Boston International Holdings
FINALS
Alpha Financial Markets Consulting, First Property Group, Latham (James), SDCL Energy Efficiency Income Trust, XPS Pensions Group
SPECIAL EX-DIVIDEND DATE
Edinburgh Inv Trust
AGMS
AltynGold, Argo Blockchain, Atalaya Mining, Fresnillo, Gemfields Group Limited, HMS Hydraulic Machines & Systems Group GDR, Itaconix , Kavango Resources , NB Distressed Debt Investment Fund Limited, New Century AIM VCT 2, PJSC Lukoil ADR, Robinson, Science In Sport, Scottish Mortgage Inv Trust, Serica Energy, STM Group, Tandem Group, THG , Union Jack Oil, VPC Specialty Lending Investments, Westminster Group
TRADING ANNOUNCEMENTS
Wood Group (John)
UK ECONOMIC ANNOUNCEMENTS
BoE Interest Rate Decision (12:00)
FINAL DIVIDEND PAYMENT DATE
Gamma Communications, Randall & Quilter Investment Holdings (DI)
FINAL EX-DIVIDEND DATE
Aberdeen Japan Investment Trust , Airtel Africa , Anexo Group , B.P. Marsh & Partners, Baillie Gifford China Growth Trust , Braemar Shipping Services, British Land Company, Edinburgh Inv Trust, GB Group, Gulf Keystone Petroleum Ltd Com Shs (DI), Helical, Helios Underwriting, JD Sports Fashion, JPMorgan European Discovery Trust, Norcros, Serica Energy, Tate & Lyle, Tatton Asset Management , TotalEnergies SE, United Utilities Group, Vodafone Group, VP, Wentworth Resources NPV
Friday 25 June
INTERIM DIVIDEND PAYMENT DATE
Blackrock Frontiers Investment Trust, Euromoney Institutional Investor, Henderson European Focus Trust, Jersey Electricity 'A' Shares, Orchard Funding Group , Titon Holdings, Town Centre Securities, Triple Point Vct 2011 A
QUARTERLY PAYMENT DATE
BlackRock World Mining Trust, Honeycomb Investment Trust, RM Secured Direct Lending
INTERNATIONAL ECONOMIC ANNOUNCEMENTS
GFK Consumer Confidence (GER) (07:00)
M3 Money Supply (EU) (09:00)
Personal Consumption Expenditures (US) (13:30)
Personal Income (US) (13:30)
Personal Spending (US) (13:30)
U. of Michigan Confidence (US) (15:00)
FINALS
Jade Road Investments Limited NPV (DI), Norman Broadbent
ANNUAL REPORT
Castings, Jade Road Investments Limited NPV (DI)
SPECIAL DIVIDEND PAYMENT DATE
Seneca Growth Capital Vct
AGMS
Cadogan Petroleum, Entain, Heiq, Hemogenyx Pharmaceuticals , Inspiration Healthcare Group , MetalNRG, Norman Broadbent , PJSC Gazprom Level 1 ADS, Proton Motor Power Systems, SDX Energy Inc. (DI), Serabi Gold, Tata Consumer Products Limited GDS (REG S), Tesco, Tiziana Life Sciences
UK ECONOMIC ANNOUNCEMENTS
GFK Consumer Confidence (00:01)
FINAL DIVIDEND PAYMENT DATE
Foresight VCT, Frenkel Topping Group, H&T Group, Keller Group, Learning Technologies Group , SEC Newgate S.P.A. NPV (CDI), Spectra Systems Corporation, Vivo Energy