Wednesday preview: US inflation data 'key' to stock market correction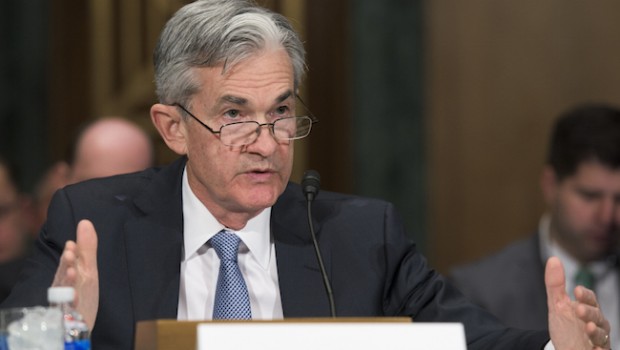 Tuesday's US inflation reading is seen as crucial to many traders and analysts, with eurozone GDP unlikely to surprise and UK company results coming from the likes of Galliford Try and Shire.
US economic data will be crucial in determining how far the correction has to run further and Goldman Sachs said US core CPI data this week "will be key to watch".
With a slow hiking path relative to history already the baseline, a stabilisation in markets "will need investors to regain confidence that the increase in inflation will be gradual and long-end rates will not rise too swiftly", Goldman said.
CPI on Wednesday is therefore a "crucial factor", with Goldman expecting January's core CPI to move back to 1.7% year-on-year from 1.8% in December. "While a large upside surprise on Wednesday may prompt a second leg in the selloff, we ultimately expect US inflation to rise only gradually."
The consensus forecast is for headline CPI growth of 1.9% on the year and 0.3% on the month, with core annual CPI growth slipping to 1.7% from 1.8% with a monthly rise of 0.2%.
Speaking a day ahead of the numbers, new Federal Reserve chief Jerome Powell projected a steady-as-she-goes approach, saying: "While the challenges we face are always evolving, the Fed's approach will remain the same".
He said the Fed was in the process of "gradually normalizing" interest rate policy and the balance sheet, and stressed he would pursue interest rate policy "without concern for short-term political pressures".
Danske Bank said: "Despite CPI core inflation being below2%, we still believe the Fed will continue its hiking cycle this year by raising the Fed funds rate three times."
A second reading on European GDP on Wednesday is not expected to see any revision to the initial 0.6% rate of quarter-on-quarter growth, though Germany and Italy are also reporting their individual growth this week.
The first estimate of the German full-year 2017 GDP showed an expansion by 2.5% on a calendar adjusted basis, which would be consistent with fourth-quarter GDP growth of about 0.5% quarter-on-quarter, which would be down from the 0.8% reported for the third.
Other macro data on the day includes US retail sales and eurozone industrial production.
COMPANY NEWS
Drinks bottler Coca-Cola HBC will report fourth-quarter and final results for last year, having appointed Zoran Bogdanovic as its new chief executive officer in early December after Dimitris Lois passed away in October. Bogdanovic, who joined the company in 1996 in Croatia, had been a regional director, responsible for operations in 12 countries and has been a member of the group's operating committee since 2013.
The consensus forecast is for earnings per share to grow almost 24% to €1.20.
UBS expects fourth-quarter organic net sales growth of 5.1% driven by better price/mix across all regions, particularly emerging ones. For the full year, analysts forecast group organic net sales up 5.7% as volumes grow 2.2% with a flattish Russia, which represents around 17% of sales. Clean diluted earnings per share are seen coming in at €1.22.
Deutsche Bank forecast €6.5bn of sales, €621m of EBIT and €1.23 of EPS.
Drugmaker Shire also reports full-year results, having made its own appointments in less miserable circumstances late last year and also last month striking a deal with AB Biosciences to develop and commercialise ABB's novel autoimmune disease programme.
The pharma group has a new chief financial officer in the shape of Thomas Dittrich, hired from the same role at Swiss engineering and manufacturing group Sulzer, and also poached Bayer's drug discovery chief Andy Busch to be its new head of research & development and chief scientific officer, starting last month.
Third quarter results from Shire showed better earnings than expected thanks in part to its immunology franchise, as it reiterated its full-year guidance for total product sales of $14.3-14.6bn and diluted earnings per share of $5.65-6.05 on a statutory basis and $14.8-15.2 on an underlying basis.
Deutsche analysts forecast Shire will meet the middle of non-GAAP EPS guidance range driven by 7% pro forma product sales growth. "We continue to believe that the shares should recover from currently very bearish levels as investors gain comfort over consensus forecasts for continued business growth despite headwinds to the hemophilia franchise."
Analysts said key areas of focus for the fourth quarter were for product sales growth of around 6%, helped by continued Xiidra growth, full-year Vyvanse sales to reach management's double digit growth target despite slow US volumes, strong Neuroscience growth in Q4 thanks to initial Mydayis sales, Haematology sales growing roughly 3% and Immunology likely to report a softer performance than the exceptional Q3.
On the 2018 outlook, Deutsche expects product sales will still grow in "low single digits" with "mid-single digit EPS growth".
In a recent note, after a 10% fall in Shire's shares in 2018, Societe Generale analysts said the decline was "irrational" despite an unhelpful delay to the conclusion of a review of Shire's ADHD business to the second half of 2018. Market values suggest Shire's haemophilia business is worth £20 a share and the ADHD division is worth £10 a share.
That leaves the rest of Shire's businesses trading at a price to equity ratio of three times and "this is simply unjustifiable", the analysts said.
Interim results are scheduled from residential and infrastructure construction group Galliford Try, which at its AGM trading update in November stated that it continues to see good market conditions across its three businesses.
However, the group's share price has since dropped to a recent 18-month low due to a range of possible factors, including construction sector struggles, rising interest rate expectations and the company's connections to the collapse Carillion, with which it was working on a joint venture.
Galliford announced in January that it will have to fund an additional circa £30-40m of cash outstanding from Carillion in regards to the Aberdeen Western Peripheral Route contract.
However, broker Numis said that "this does not represent a new issue with the project, only an assumption of Carillion's liability".
"Furthermore, we understand that the contract is due to complete in mid-2018, and we therefore believe that the recent share price fall is overdone."
Analysts noted GFRD's p/e ratio of six times, dividend yield of 9.3% and said, whilst the group operates with average net debt in contrast to others in the housebuilding subsector, "this is expected to stand at a relatively comfortable 1.5x in FY18 EBITDA".
Wednesday February 14
INTERNATIONAL ECONOMIC ANNOUNCEMENTS
Business Inventories (US) (15:00)
Consumer Price Index (US) (13:30)
Crude Oil Inventories (US) (15:00)
GDP (Preliminary) (EU) (10:00)
GDP (Preliminary) (GER) (07:00)
Industrial Production (EU) (10:00)
MBA Mortgage Applications (US) (12:00)
Retail Sales (US) (13:30)
FINALS
Coca-Cola HBC AG (CDI), Plus500 Ltd (DI), Shire Plc
INTERIMS
Galliford Try
GMS
Rockrose Energy, Vast Resources
FINAL DIVIDEND PAYMENT DATE
Dewhurst, Dewhurst (Non-Voting), Tharisa (DI)
INTERIM DIVIDEND PAYMENT DATEPuma VCT 10 , Puma VCT 9