Wednesday preview: Might Burberry appoint new creative director alongside trading update?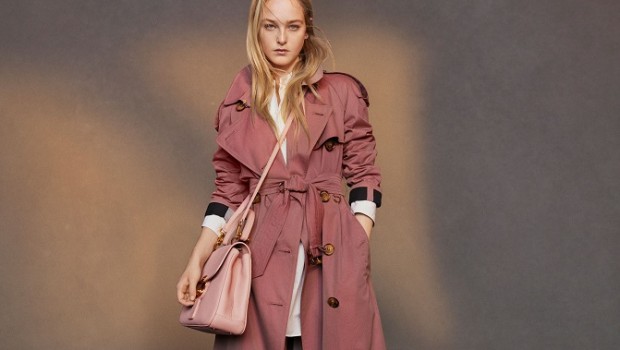 A trading update from Burberry could provide an early highlight on Wednesday before the Bank of Canada grabs the spotlight on what is expected to be a quieter day for financial news.
The first of the 'soft luxury' companies to report on the last quarter of 2017, Burberry is due to provide retail sales data for what is its third quarter.
The consensus forecast is for 3% like-for-like sales growth, with the analysts predictions ranging from 2% to 4% after the 5% reported in the second quarter.
Following the unveiling two months ago of new chief executive Marco Gobbetti's new medium-term strategic plan to move further upmarket in search of stronger profit margins, re-fitting stores and ending various wholesale agreements over the next two years, there are not expected to be many major developments in this release but investors will be keen to hear all is going smoothly.
Investors would also be very eager to hear that a new creative director has been identified to replace longtime guru Christopher Bailey, who will depart the board at the end of March and provide support until the end of next December.
Morgan Stanley, which forecast 2.1% LFL growth for the quarter, said it expected a slight slowdown in LFL trends, particularly in the UK and among global Chinese customers, with Burberry having relatively higher exposure to the UK compared to other luxury players and management indicated during the tougher comparatives from the Brexit-weakened pound at the end of 2016.
On the boardroom developments analyst Elena Mariani added: "Identifying a right successor for Christopher Bailey would be crucial for the group's medium-term repositioning strategy. Phoebe Philo, who recently announced her imminent departure from Celine (LVMH), has been mentioned as a potential candidate by the press given her previous successful collaboration with Marco Gobbetti, but neither she nor the company have commented. Investors would be keen to hear any update from management on this front."
Stuart Vevers, previously of Mulberry and now at Coach, has also been touted as Burberry's replacement; as have Stefano Pilati and Riccardo Tisci ex of Ermenegildo Zegna and Givenchy respectively.
Deutsche Bank's Warwick Okines, which was forecasting 3% LFL growth in line with consensus, noted that this quarter "has the most challenging prior year comparatives and we see some downside risks given the process of transitioning the creative direction of the brand".
While Gobbetii has guided for "broadly stable" revenues and margins in the years to March 2019 and 2020, "this does not mean there will not be a lot of activity during calendar 2018," said Okines also looking for the creative director to be appointed soon.
"It remains to be seen how long this process will take, but it is likely that 2019 is the earliest the new designer will be able to influence ranges, and there may be some de-stocking ahead of this," he added, also expecting 2018 to see the 'light refreshes' of flagship stores, clean-up of wholesale and retail outlets, cost savings and the a full year under the beauty partnership with licensee Coty.
CINEWORLD, BHP AND HOCHSCHILD
Cinema operator Cineworld confirmed in November that it was on track for full year numbers thanks to what it saw as a strong film slate for the final six weeks of the year and then in early December surprised many by launching a takeover of US movie theatre operator Regal Entertainment.
December trading has been strong, said broker Numis, thanks to Star Wars VIII reporting £60m of box office takings in December, though this may be a 20% soft versus expectations for the levels seen for the previous episode VII levels.
Numis forecast group revenue of £896m, implying growth of 8.7% in constant currency, but noted that information on the Regal acquisition is "more price sensitive than current trading". The transaction, including a £1.7bn rights issue, is expected to
complete in March.
A second-quarter production update is scheduled from BHP Billiton, which, along with its heavyweight mining peers is benefitting as recently improving global economic growth feeds through to better commodity prices.
"BHP has also seen good operational performances recently so investors should expect to see overall better sales figures from the group," said analysts at broker the Share Centre, looking for news on further reductions in the cost of production, especially in iron ore.
"With the improving outlook, we await to see if management's confidence has returned to once again make big capital expenditures on capacity expansion programmes."
Hochschild Mining is due to announce fourth quarter production, which Numis predicts will come out at 72koz of gold and silver production of 5.1Moz, equivalent to 8.8Moz on a silver equivalent basis.
Analysts expect gold equivalent cash costs of $608 per oz with full year revenues of $712m, EBITDA of $322m and earnings per share of 9 cents.
"The main focus for Q1 should be the commissioning of the high-grade Pablo vein system at Pallancata that should increase production and drive down costs."
MACRO MACHINATIONS
The Bank of Canada is expected to raise interest rates to 1.25% from 1.0% on Wednesday's meeting.
Economists at RBC Capital Markets were part of this consensus. "Clear signs of diminished labour market slack and an economy operating at full capacity should outweigh rising trade tensions with the US," RBC said.
"Risks around a possible US withdrawal from NAFTA will likely once again be the biggest concern weighing on the BoC, but absent an imminent withdrawal notice, they should feel comfortable bumping up the overnight rate to its post-crisis high."
Closer to home, Michael Saunders, a member of the Bank of England's own rate-setting committee, will speak in London at around 1145 GMT.
Saunders has gained a reputation as somewhat of a hawk, having begun voting to raise interest rates last June, five months before a majority of the MPC did in November.
But after consumer price inflation appeared to have peaked, as indicated by December's figures from the Office for National Statistics a day earlier, Saunders and his colleagues may be happy to wait a while longer before any hike to follow that made in November.
Over on the continent, final confirmation will be provided for inflation in the eurozone for December.
Economists do not think it is likely that Wednesday's release will revise the earlier 'flash' estimate of 1.4% year-on-year growth in HICP inflation. On a monthly basis, it is seen at 0.2%.
"However, it is only with the greater detail that comes with this second release that we can assess what is behind the recent weakness in core inflation," said RBC, with core CPI having ticked up last summer before settling back down to 0.9%.
In December the European Central Bank concluded that the current weakness may be due to one-off factors and therefore be temporary.
Wednesday January 17
INTERNATIONAL ECONOMIC ANNOUNCEMENTS
Consumer Price Index (EU) (10:00)
MBA Mortgage Applications (US) (12:00)
Wholesale Price Index (GER) (07:00)
TRADING ANNOUNCEMENTS
Burberry Group, Cineworld, City of London Investment Group, Clinigen Group, Diploma, Henry Boot, Secure Trust Bank
DRILLING REPORT
BHP Billiton, Hochschild Mining
EGMS
China New Energy Limited
AGMS
Diploma, Majedie Investments
QUARTERLY PAYMENT DATE
Assura