Tuesday preview: Fed Chief Powell, China manufacturing in focus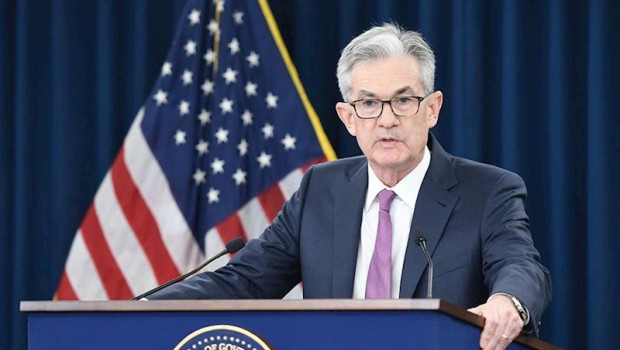 The focus in financial markets at the end of the second quarter will be on US central bank chief, Jerome Powell's testimony before the US House of Representatives Financial Services Committee.
Ahead of that, overnight, China's National Bureau of Statistics will publish its factory sector Purchasing Managers' Index for June.
Also due out during Asian trading hours are readings on Japanese unemployment and industrial production in May.
Those reports will be followed in the afternoon by another closely-followed PMI in the States, covering the region around Chicago.
On home shores, consultancy GfK will publish the "final" results of its consumer confidence for the UK, also for the month of June.
Economists at Barclays anticipate that the index will have recovered further from its May reading of -36.0 and June's preliminary print of -30.0 to reach -27.0.
Across the Channel meanwhile, the spotlight will on euro area consumer price data for June, which economists expect will show the rate of increase for inflation steady at 0.1%.
Tuesday 30 June
INTERIMS
CloudCoco Group , On The Beach Group
INTERIM DIVIDEND PAYMENT DATE
Albion Technology & General VCT, Artemis VCT, Aviva 8 3/4% Cumulative Irrd Preference 1, Ecclesiastical Insurance 8.625% Non-Cum Irr Pref Shares, Triple Point VCT 2011 'B', Triple Point Vct 2011 A
QUARTERLY PAYMENT DATE
Ediston Property Investment Company, HICL Infrastructure , NextEnergy Solar Fund Limited Red, Premier Global Infrastructure Trust, Raven Property Group 6.5% Red Cnv Pref Shs NPV, Raven Property Group Limited Cum Red Pref, The Renewables Infrastructure Group Limited, TwentyFour Select Monthly Income Fund Limited
INTERNATIONAL ECONOMIC ANNOUNCEMENTS
Chicago PMI (US) (14:45)
Consumer Confidence (US) (15:00)
Import Price Index (GER) (07:00)
GMS
Oilex Ltd.
FINALS
Aseana Properties Ltd., Boston International Holdings, Catenae Innovation, Civitas Social Housing , D4T4 Solutions, Solid State, Sysgroup
ANNUAL REPORT
Catenae Innovation
SPECIAL DIVIDEND PAYMENT DATE
Artemis VCT
AGMS
4D Pharma , Aberdeen Standard European Logistics Income, Allied Minds , Animalcare Group, Armadale Capital, ASA International Group , Asiamet Resources Limited (DI) , Attraqt Group , BMO Commercial Property Trust Limited, Borders & Southern Petroleum, Cadogan Petroleum, Centaur Media, Cobra Resources, Crimson Tide, Distribution Finance Capital Holdings, ECSC Group, Energiser Investments, Equals Group , Fireangel Safety Technology Group, Fox Marble Holdings, Good Energy Group, Good Energy Group, Gresham House Energy Storage Fund, Gulf Marine Services, GYG, Henry Boot, I3 Energy , Impellam Group, Ingenta, Inspects Group , Inspired Energy, Instem, Keller Group, Keystone Law Group , London Security, LSL Property Services, LXI Reit , Maintel Holdings, Metal Tiger , Mustang Energy , National World , Non-Standard Finance, Petropavlovsk, Phoenix Global Resources , Phoenix Global Resources , Pollen Street Secured Lending , Prospex Oil and Gas, Ra International Group, RDL Realisation , Reach4Entertainment Enterprises, Robinson, Rurelec, Safestay, SIG, Standard Life Investments Property Income Trust Ltd., SurgutnefteGas Public Joint Stock Company ADR, Tiger Resource, Tissue Regenix Group, Trans-Siberian Gold, Universe Group, Vianet Group, W Resources, Woodbois Limited, Xtract Resources
UK ECONOMIC ANNOUNCEMENTS
Nationwide House Price Index (07:00)
FINAL DIVIDEND PAYMENT DATE
James Halstead 5.5% Cumulative Preference 1, Sigma Capital Group