Thursday preview: Bank of England, Dixon's Carphone in the spotlight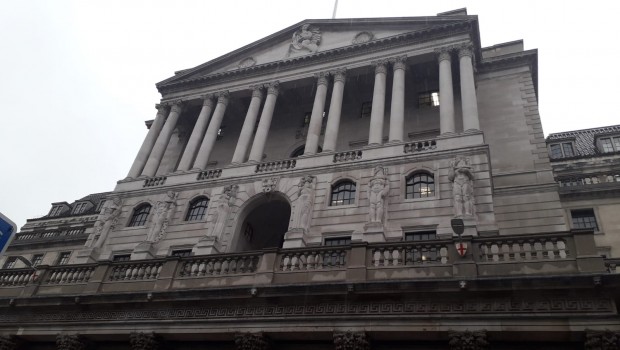 The market spotlight on Thursday will be firmly on central banks, as policymakers at the Bank of England meet to decide on interest rates, with several of them having recently cautioned that financial markets might be underestimating the scope for a hike in Bank Rate before year end.
So much so that some analysts think it possible - albeit not the most likely scenario - that the Monetary Policy Committee's Michael Saunders might break ranks with his fellow members and cast his vote in favour of an immediate hike in Bank Rate.
In the background meanwhile, policymakers from at least five other central banks were to be called on to decide on rates, including those in Japan, Norway Taiwan the Phillipines and Indonesia.
As far as economic data releases are concerned, the main ones to watch out for are Eurostat's preliminary consumer confidence gauge for the euro area covering the month of June, at 1600 BST, and the Philly Fed's manufacturing sector gauge for the same month later in the day at 1500 BST.
Dixons Carphone is among the scant handful of corporates due to update financial markets on Thursday.
Numis's Simon Bowler has penciled in full-year profits before tax of £307m, versus the company's own guidance for £300.0m in profits, exceptional cash flows of roughly £100.0m and £190.0m in capital outlays.
In particular, Bowler expects markets' focus to be on the company's trading momentum over the fourth quarter and outlook, including "qualitative" comments, especially for the mobile business.
On that last score, Bowler said: "Here we fear that further confirmation of profit and cash challenges to the mobile business could drag on sentiment, albeit we acknowledge that (at the point of writing) the shares have re-traced towards lows going into results."
For N Brown meanwhile, Bowler is expecting the women's fashion retailer to post a 3% decline in first quarter sales.
Revenues might decline, he said, but "better" cost management was expected to support the company's profit and cash outlook.
Thursday June 20
INTERIMS
CareTech Holding
INTERIM DIVIDEND PAYMENT DATE
Cerillion , Euromoney Institutional Investor
INTERIM EX-DIVIDEND DATE
Compass Group, Gooch & Housego, Inland Homes, ITE Group
QUARTERLY EX-DIVIDEND DATE
Brunner Inv Trust, Land Securities Group, Mercantile Investment Trust (The), Standard Life Private Equity Trust, TwentyFour Select Monthly Income Fund Limited
INTERNATIONAL ECONOMIC ANNOUNCEMENTS
Continuing Claims (US) (13:30)
Current Account (US) (13:30)
Initial Jobless Claims (US) (13:30)
Philadelphia Fed Index (US) (13:30)
GMS
A&J Mucklow Group, Anglo Asian Mining
FINALS
Best of the Best
SPECIAL EX-DIVIDEND DATE
Castings
AGMS
4D Pharma , Anglo Asian Mining, Augean, BH Macro Ltd. GBP Shares, Energiser Investments, Eurasia Mining, HSS Hire Group , HydroDec Group, NMC Health, PJSC Lukoil ADR, REA Holdings
UK ECONOMIC ANNOUNCEMENTS
BoE Interest Rate Decision (12:00)
Retail Sales (09:30)
FINAL DIVIDEND PAYMENT DATE
Gamma Communications
FINAL EX-DIVIDEND DATE
Amati AIM Vct , Anexo Group , B&M European Value Retail S.A. (DI), Big Yellow Group, Braemar Shipping Services, Edinburgh Inv Trust, First Derivatives, MS International, Norcros, Northern 2 VCT, Northern 3 VCT, ProVen Growth & Income VCT, ProVen VCT, S&U, Steppe Cement Ltd, Stobart Group Ltd., Tate & Lyle, TR Property Inv Trust, United Utilities Group