Investors place trust in Lloyds' upbeat outlook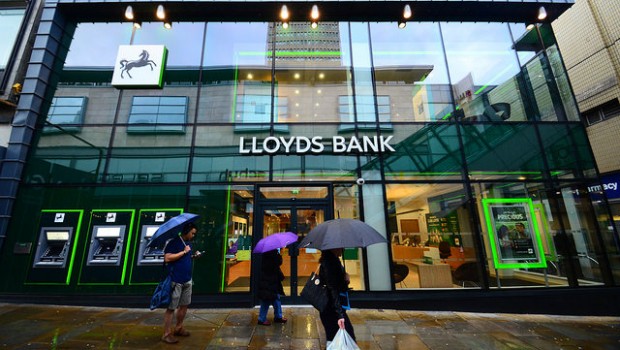 Lloyds Banking Group shares rose on Thursday even after the FTSE 100 lender reported falling annual profit and revenue and warned profit margins would shrink this year.
Underlying profit for the year to the end of December fell 7% to £7.5bn as net income fell 4% to £17.1bn and bad debts rose. At the pretax level, profit dropped by 26% to £4.4bn as the bank paid out £2.5bn for payment protection insurance (PPI).
However, much of this bad news was already factored in and the bank was more upbeat about the current financial year after what it said was a "challenging" 2019. The big PPI charge was unchanged from the end of September when Lloyds calculated the impact of a rush to claim compensation before the August deadline.
Analysts had expected pretax profit of £4.5bn so Lloyds wasn't far off. The slight miss was caused by higher costs than expected but the revenue decline was in line with forecasts. The company's shares rose 2.2% to 57.02p at 16:07 GMT.
Lloyds is Britain's biggest retail bank and its domestic focus ties its fortunes closely to the wider UK economy. 2019 was a difficult year because, though the economy grew overall, output was weak and erratic as consumers and businesses viewed the political logjam over Brexit warily and waited for the likely general election.
António Horta-Osório, Lloyds' chief executive, said the bank put in a resilient performance during 2019 and that conditions appeared to be improving in the new financial year. Lloyds shares had fallen almost 11% in 2020 before the results as investors braced for bad news so Horta-Osório's fairly upbeat outlook went down well.
Nicholas Hyett, equity analyst at Hargreaves Lansdown, said: "We expected Lloyds to report a fairly tough end to 2019, with both retail and corporate customers cautious in the run-up to the election. However, the outlook for 2020 is more important, and there we have some good news."
Lloyds said it expected to shrink operating costs to less than £7.7bn in 2020 from £7.9bn, resulting in an improved cost-income ratio. Capital generation will be within the bank's guidance range and, after a 38% increase in credit impairments in 2019, conditions are not getting worse, it said. That guidance appears to have offset a prediction that the net interest margin would shrink further this year because of intense competition in the mortgage market.
The bank also had reassuring news on the dividend, which is important to its following of more than 2m small shareholders. Lloyds increased the annual payout by 5% to 3.37p a share and said it was committed to a "progressive and sustainable" dividend. Though the bank announced no new share buyback in 2020, analysts think it will be able to return cash to shareholders.
Chris Beauchamp, chief market analyst at IG, said: A 5% dividend boost from Lloyds has been enough to appease shareholders it seems … The market appears to be happy with Lloyds, perhaps sending a signal that it regards the shares as attractively priced, especially with an increased payout thrown in."
Lloyds was the biggest provider of payment protection insurance and its total bill from the scandal is about £22bn. With the £2.5m 2019 charge unchanged from September's provision investors are now hoping the bank can move on from Britain's biggest mis-selling episode.
"At least the PPI saga looks to be finally behind them, with no further provisions made in this quarter, so there's a big silver lining there," Michael Hewson, chief market analyst at CMC Markets, said.
The bank's outlook is based on a recovering UK economy but that is not guaranteed by the recent run of improved news.
The Bank of England held off from cutting interest rates in January but said it was monitoring developments and would act if improvements faltered. Britain also has little time to negotiate a post-Brexit trade deal with the EU and the world economy is at risk from the coronavirus outbreak in China.
Richard Hunter, head of markets at Interactive Investor, said: "The outlook comments make little mention of proposed growth, rather concentrating on further cost control. Seen as a barometer for the UK economy, Lloyds' fortunes are likely still to remain somewhat out of its hands as negotiations with Europe unfold over the year."