Commodities: Weak start to the week, US-China trade and global growth concerns in focus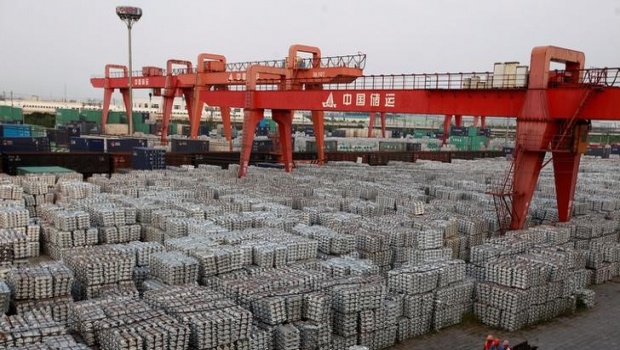 Commodities sagged at the start of the holiday-shortened week, led by losses in the energy space, amid some mixed headlines on the state of US-China trade talks and continuing concerns around the outlook for the global economy.
At the weekend, US Treasury Secretary, Steve Mnuchin, said the deal being negotiated with Beijing would mark the biggest change in the two countries' relationship in 40 years.
But his remarks came amid a report from Reuters that Washington had climbed down when it came to Beijing industrial subsidies and various reports regarding how both sides were wary of 'losing face' with public opinion in their countries.
Not surprisingly, such comments drew a mixed reaction from traders in the City.
Against that backdrop, as of 1954 BST the Bloomberg commodity index was shedding 0.46% to 82.33, alongside a dip of 0.03% for the US dollar spot index to 96.9440.
Also weighing on sentiment, at the conclusion of the IMF's Spring meetings in Washington, on Saturday, global finance ministers and central bankers issued a statement saying that risks to global growth remained tilted to the downside, although they were ready to "act promptly".
Front month crude oil futures were trading lower on both sides of the Pond, with West Texas Intermediate for May delivery retreating 0.69% to $63.45 a barrel on NYMEX, following six consecutive weekly closes higher.
As an aside, commenting on the latest Chinese trade in commodities figures for March, Barclays Research noted how the Asian giant's crude oil imports shrank by nearly 1.0m barrels a day during the previous month, falling below the 10.0m b/d mark for the first time since November 2018 - albeit due to refinery maintenance.
But overall Barclays believed the Chinese import data pointed to upside risks for growth in the fist quarter, figures for which were set for release later in the week, on Thursday.
Another drag on WTI came in the form of the latest weekly US oil rig survey data, with consultancy Baker Hughes having reported during the previous session that the number of US oil rigs in operation increased by two over the latest week to hit 833.
Similarly-dated natural gas was seeing a big drop alongside, shedding 2.71% to $2.59/MMBtu.
LME base metals all finished lower, although the main contracts remained within their recent trading ranges, according to analysts at Sucden Financial.
Three-month LME copper futures slipped from $6,49 per metric tonne at the open to finish at $6,480 per tonne.
"Relatively slow start to the new week and as we approach the Easter break markets are likely to remain thin," Sucden said.