JPMorgan says 75% chance Rolls-Royce may need to issue equity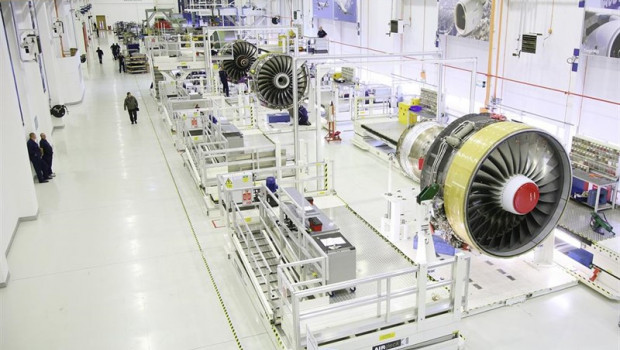 There's a 75% chance that Rolls-Royce will need to issue equity, JPMorgan Cazenove said on Monday in a note on the European civil aerospace sector.
The bank, which cut its estimates across the sector in anticipation of a "deeper, longer crisis", also said that Standard & Poor's and possibly even other ratings agencies are likely to downgrade Rolls-Royce to non-investment grade.
For the sector, excluding RR, JPM cut 2020-22 earnings per share estimates by 12%/10%/8%. For RR, it cut its 2020-22E EPS estimates by 84%/44%/10%.
The bank reiterated its 'underweight' ratings on MTU Aero and Rolls-Royce and said it was 'neutral' on the four other ECA stocks in its coverage.
JPM now assumes global air traffic will fall 38% year-on-year versus a previous estimate of a 26% decline in 2020, in line with IATA's latest assumption. It also assumes that across the ECA sector, average aftermarket sales will fall 42% this year, taking slightly more than two years to recover.
The bank expect Airbus's 2020-22E aircraft deliveries to be 22%/28%/25% lower than it expected on 14 March.
"We assume every ECA company cuts 2020-22E R&D and capex by circa 20% (relative to prior plans)," it said, adding that it expects "significant" headcount reductions and/or reduced working hours, with most governments stepping in to partly subsidise wages.
"With the exception of Rolls-Royce, we believe that all the companies we cover in the ECA sector have balance sheet resilience to navigate this downturn,"it said. It said RR was likely to need to raise equity as around 70% of its civil aerospace sales are from wide body engines exposed to long haul international travel.
"Most aviation executives/consultants believe the downturn in international traffic will be deeper and slower to recover than the downturn in short-haul traffic," it said.
In addition, it noted that RR has a business model whereby most of its cash comes from engine flying hours, i.e. airlines pay the company monthly/quarterly based on hours flown and in advance of actual maintenance work.
As far as S&P and the credit rating are concerned, it pointed out that the ratings agency placed RR on negative credit watch on 27 March, saying it plans to resolve the CreditWatch as soon it can further assess and quantify the impact of Covid-19 on the company.
S&P currently rates RR as BBB-, the lowest investment grade rating. "Our assumption is that S&P, and perhaps other agencies, will downgrade RR to non-investment grade," JPM said.
Safran, Meggitt, Senior and Airbus were the other stocks covered in the note.
At 1550 GMT, RR shares were down 14% at 313.70p.