JPMorgan downgrades Ocado, says CFC pipeline rollout will remain slow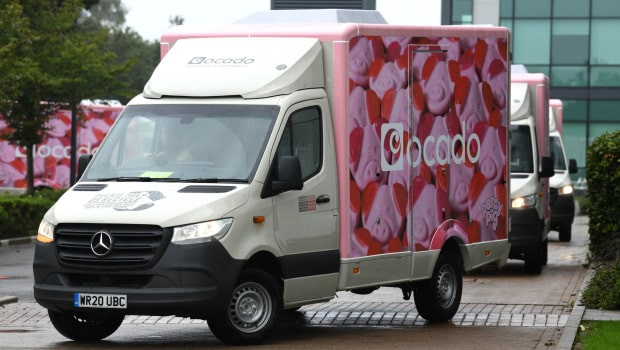 JPMorgan Cazenove downgraded its stance on Ocado on Wednesday to 'underweight' from 'neutral' as it argued that the customer fulfilment centre (CFC) pipeline rollout was likely to remain slow.
On Tuesday, Ocado announced that it had signed a partnership between Ocado Solutions and Lotte Shopping, one of the largest business conglomerates in South Korea, to develop Lotte's online business with the Ocado Smart Platform.
JPM noted that this includes six new CFCs by 2028 and an additional in-store fulfilment solution across Lotte's store estate.
"In light of the current debate around Ocado's ability to sign new partnership deals, this was clearly a welcomed step, though we emphasise that still a large number of additional CFCs are required to justify current valuation in our view," JPM said.
It said the surge in the share price on the back of the announcement was driven by a strong message around very limited additional capex requirements for the new partnership and a high short interest in the name.
"We conclude that at the current market cap of £5.3bn or circa 650p per share, still an additional 78 incremental CFCs are required (at an NPV per CFC of £58m each)," the bank said. "More importantly, we feel reassured in our view that rapidly changing consumer shopping habits indeed push grocery CEOs into generating strategies on how to sell online, amplified by new, rapidly growing online-only solutions.
"However, what also becomes clearer to us is that the shift towards more CFCs is likely to remain slow as in-store picking solutions (rather than a large roll-out of new centralised CFCs) appear to be the preferred choice for established supermarkets at this point to better monetise the established branch network."
With momentum in new partnership announcements likely to remain the key share price driver from here, JPM said it sees the risk-reward as unattractive relative to other names in the European internet sector.
The bank maintained its 500p price target on the stock.
At 1110 GMT, the shares were down 5.3% at 620p.