Jefferies backs Boeing despite slide in deliveries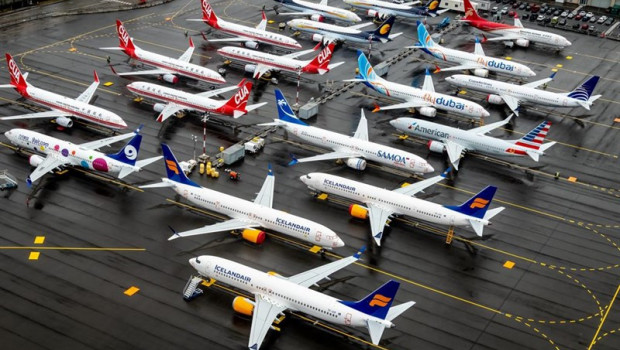 Jefferies has reiterated its 'buy' recommendation on Boeing, despite a slump in second-quarter deliveries that left rival Airbus poised to overtake the US company as the world's biggest plane manufacturer.
Boeing has been rocked after it best-selling 737 Max was grounded in March following two fatal crashes. June is now the third consecutive month that Boeing has booked no new orders of the aircraft as it looks to fix onboard anti-stall software, and the model is not expected to be cleared for flight again until September at the earliest. There are currently around 150 undelivered Max planes parked at sites in the US, with another 380 owned by airlines also grounded.
There were 24 deliveries of 737 models in the second quarter compared to 137 in the same period in 2018. Overall, Boeing delivered 90 commercial planes in the second quarter, compared to 194 a year earlier.
In the year to date, Boeing delivered 239 commercial aircraft, a 37% decline. It's European rival Airbus, however, saw deliveries rise 28% to 389 in the first half, the first time in eight years it has come in ahead of Boeing.
But Jefferies has continued to back the US company. The 90 commercial planes delivered in the second quarter was ahead of Jefferies' estimate, for 77 deliveries, and the broker noted there were stronger performances from Boeing's other models. Boeing increased deliveries for its 747, 767 and 787 ranges in the second quarter, while there were 12 deliveries of 777s against 13 a year earlier.
Jefferies also pointed to the 257 orders and commitments secured by Boeing at last month's Paris Air Show, although it conceded "most are not finalised and not additive to current backlog".
The broker, which has a price target of $448 on the stock, concluded: "We have increased confidence that Boeing can grow free cash flow at a low double digit rate on average through the end of the decade, supported by robust demand for its commercial aircraft and higher production.
"The near term is burdened by the MAX recovery, with an expected rebound in 2020. Focus on the services offering could accelerate growth. Improved cash margins could to a sustainable $33 per share of free cash flow by 2021."