Airlines to take hit but recover after coronavirus - HSBC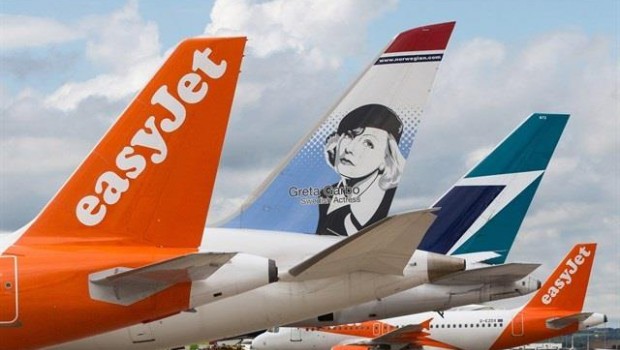 EasyJet will be the UK airline worst affected by the coronavirus outbreak, HSBC analysts said as they kept their 'buy' ratings on all four London-listed carriers.
HSBC ran three scenarios for European airlines in 2020 following trading warnings and sharp share falls caused by the COVID-19 coronavirus.
The analysts' base case is for 2.5 point falls in load factors and yields from its previous estimates. High- and low-impact scenarios envisage 3.5% and 1.5% cuts to loads and yields respectively. But all the airlines covered will survive while others fail, creating opportunities for those left, HSBC said.
"This is serious," the analysts wrote in a note to clients. "Since COVID-19 spread to Europe, demand for air travel in Europe has weakened broadly. European airlines, which were sanguine about the potential impact of the virus when it was an Asian phenomenon, are now taking radical action, cutting capacity and implementing short-term operating and capital costs."
EasyJet will come off worst from the crisis because of its strong market position in Milan in northern Italy, the worst-affected region outside Asia. HSBC cut its estimate for earnings before interest and tax by 57% and reduced its share price target to £15 from £18.
But the analysts, led by Andrew Lobbenberg, kept their 'buy' rating on easyJet based partly on potential consolidation of carriers and tour operators and a renegotiation of its royalty agreement with founder Stelios Haji-Ioannou.
British Airways owner IAG will be affected on north and south Atlantic routes as well as Asia and intra-Europe routes, leading to a 31% downgrade for earnings, HSBC said. The bank cut its price target for IAG to 650p from 750p but kept its 'buy' rating.
Like easyJet, Ryanair has significant exposure to northern Italy with Milan Bergamo its third-biggest base. But the Irish airline will be able to use the crisis to lock in favourable labour contracts after a series of strikes and benefit from consolidation, HSBC said, keeping its 'buy' rating and cutting Ryanair's price target to €18 from €19.
Wizz Air's second-biggest western European market is Italy and it will feel the pain of a sharp reduction in capacity. The timing is unfortunate for Wizz, which had the chance to grow its business with rivals waiting for Boeing's 737 Max planes to be reintroduced. HSBC kept its 'hold' rating on Wizz Air and cut its target price to £32 from £38.
HSBC kept its 'buy' ratings on Lufthansa, Aegean, Air France-KLM, Norwegian and SAS and its 'hold' ranking for Finnair.
"Whilst 2020 will likely be extremely challenging, we believe profit outlooks for 2021 will be as we modelled prior to the outbreak of the current virus, if not better," Boddenberg said. "
"Whilst we do not expect any of our covered airlines to fail in our base-case scenario, we do expect several airlines to exit the industry, further M&A to take place and other airlines to shrink. Moreover, we expect that potential new entrants to the industry will struggle to obtain financing.
"Consequently, we expect the process of consolidation in Europe to continue, capacity growth to reduce, rationality to increase and the prospect for unit revenues to strengthen."