Berenberg halves target price on Metro Bank ahead of £350m rights issue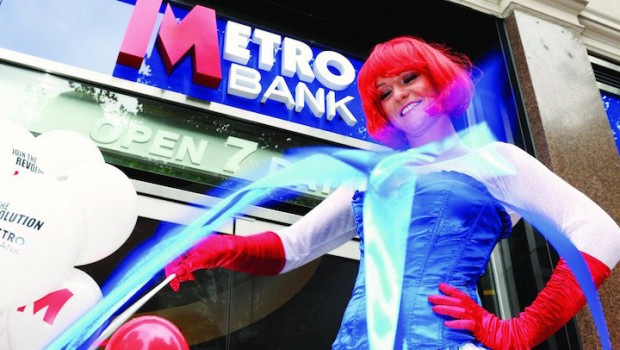 Analysts at Berenberg cut their target price on challenger bank Metro Bank in half on Wednesday, stating the outfit was suffering from "acute uncertainty" pending completion of its £350m planned capital raise.
Berenberg said that while Metro's plan to moderate growth should enable "a more stable path for returns", alongside still-meaningful growth, it believes the bank will continue to rely on "inorganic capital actions". Despite that and the near-term headwinds to revenues, its analysts came to the conclusion that the risks to the firm's share price were broadly balanced.
The German broker, which reiterated its 'hold' rating but slashed its target for Metro Bank from 1,200p down to 600p, did state that while Metro's decision to moderate its growth aspirations was reactive, it was, nevertheless, beneficial.
Berenberg also said Metro's new moderately paced strategy would reduce its reliance on external capital, enabling it to demonstrate that its model can deliver acceptable returns, which, in time, should provide a "more stable mandate to take advantage of future growth", and lastly, force it to avoid excess growth during a "particularly competitive part of the credit cycle".
Even so, Berenberg's revised projections now included Metro's £350m planned rights issue, which alone entailed a roughly 35% reduction in the analysts' EPS estimates for 2019 and 2020 at the current share price.
Previously they had anticipated a £150m raise at around 1,200p per share.
And each 10% fall in Metro's share price led to another 3% fall in Berenberg's EPS estimates, which were then further impacted by Metro's plan to grow "less rapidly", albeit partly offset by lower costs.
All told, they cut their 2019 EPS forecast by 89.9% to 7.1p and that for 2020 by 75.6% to 23.5p.
Berenberg said: "The reduction to our price target partly reflects greater-than-expected dilution from Metro's planned equity raise as well as the impact of slower growth.
"We continue to assume an 11% cost of equity. While our price target provides circa 20% upside, we think risks to Metro's share price are balanced considering the scope for further dilution."