Barclays reiterates 'underweight' on Ocado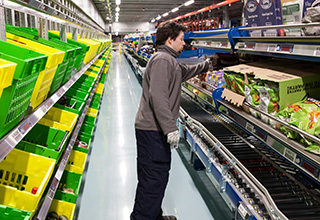 Barclays reiterated its 'underweight' rating on shares of online supermarket Ocado as it said it was disappointed and surprised that "2020 did not see any new deals inked".
The bank noted that Ocado's £20bn valuation depends on it building a steadily bigger pipeline of Customer Fulfilment Centre orders. Although the early evidence is that its first international facilities are working well and will generate follow-on orders, Ocado will likely need to attract new grocery customers to justify the valuation, it said.
"It is therefore something of a paradox that the significant growth seen by the online grocery sector in FY21 has not seen additional corporate customers added to Ocado's platform," Barclays said. "Deal flow is by nature lumpy - and we take the point that limited international travel is not helpful in sealing deals - but we remain surprised that 2020 did not see any new deals inked."
Barclays said it still believes the valuation discounts a volume of CFCs which may err on the side of optimism and noted that the FY21 Annual Incentive Plan for management includes a slightly lower weighting on 'new Solutions commitments', at 25% rather than 30%.
The bank had a 1,600p price target on Ocado.