AstraZeneca's drug pipeline call reinforces Barclays 'top pick' in sector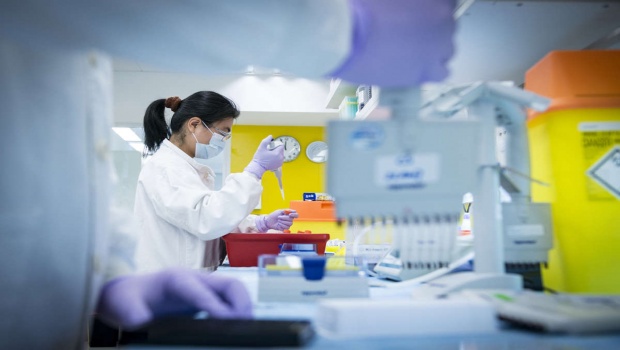 After AstraZeneca's chief medical officer indicated 2018 will see no let-up in the flow of news about the drugs pipeline, Barclays said the shares offer significant potential upside.
Barclays said CMO Sean Bohen had highlighted the forthcoming expected news flow on Phase III results for Imfinzi's Mystic OS and Kestrel trials, the triple respiratory product PT010, Lynparza as a first-line (1L) ovarian cancer treatment and roxadustat in the first half of 2018 alone.
AstraZeneca is Barclays top pick in the EU pharma sector and with the shares trading for 16.5 times 2018 core earnings they are seen as "cheap for the growth" on offer, with the pipeline "continuing to offer significant upside optionality to that growth outlook".
Barclays has a 6,300p price target on AZN's shares.
On Lynparza, Bohen said the company has reviewed the prior second-line 2L ovarian Solo-2 and Olympiad breast cancer data and sees scope for 14 additional potential launches over coming years across multiple indications, inlcuding ovarian 1L and breast in 2018 and pancreatic, prostate, adjuvant breast and in combinations with Avastin and cediranib from 2019 and other combinations further out.
More broadly in oncology it was reminded that AstraZeneca has a comprehensive approach across the spectrum of non-small-cell lung cancer, with adjuvant (Stage I-III) NSCLC settings being explored for both Tagrisso and Imfinzi through the Adaura trial due 2022 and Adjuvant study due in 2020, while the Pacific study is specifically addressing Stage III, whilst Flaura and Mystic, Pearl and Poseidon cover the stage IV settings for each drug respectively.
Tagrisso's Flaura approvals are due in the first half with Imfinzi Pacific US approvals due in the same period with the EU and Japan in the second, with final OS data due 2019 and an epacadostat combination study now underway.
Beyond NSCLC, the Kestrel study on 1L head and neck squamous cell carcinoma (HSNCC) data were confirmed for the first half along with Phase II Alps data in 2L pancreatic in February and further Mediola data through 2018, with data from the Danube bladder study in 2019. Calquence's Phase III data for chronic lymphocytic leukaemia was confirmed for 2019.
In respiratory, Bohen said Fasenra "represents the first Q8W [eight week] maintenance schedule option" with up to 51% exacerbation reductions and circa 50% placebo adjusted steroid sparing benefit, which would make it competitive with GSK's Nucala.
Barclays said the triple PT010 combination was expected to generate first Phase III data in the first half, around 12 months behind GSK's rival product, with it noted that 40-50% of LABA/ICS patients receiving an open triple LAMA component in addition, ahead of GSK's 30-40% estimate.
On tezepelumab COPD is "under evaluation" whilst the Navigator Phase III asthma study endpoints will be exacerbation rate over 52 weeks and incorporate secondaries such as FEV1.
"AZN appeared unconcerned by the lack of a comorbidity claim following the recent P2 atopic dermatitis failure."