Broker tips: Rio Tinto, SSE, Howden Joinery, Ocado, St James's Place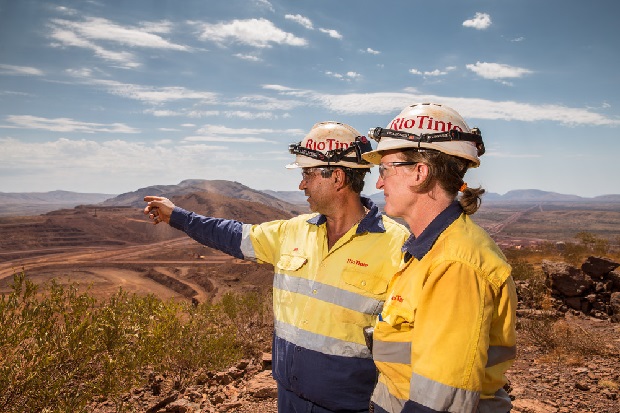 UBS downgraded shares of miner Rio Tinto to 'sell' from 'neutral' on Monday as it argued that iron ore is approaching an inflection point.
UBS noted that the stock has generated a total shareholder return of around 79% over 12 months, driven by the strong iron ore price and record cash returns. It estimated that the shares now discount an iron ore price of $80-90 per tonne versus the bank's long-term price of $65 per tonne.
UBS said Rio generates significant cash flow and shareholder returns should stay elevated in 2021.
"However, in our view current free cash flow & dividends are not sustainable as we expect the iron ore price to fall by more than 50% (from more than $200/t to circa $90) over 12-18mths; we do not believe Rio's valuation is compelling at a 'normalised' iron ore price (FCF yield 6.5% at $80/t).
"Near-term risks for the commodity complex are increasing with the Fed turning more hawkish & China taking action to deflate commodities (eg by selling strategic base metal reserves note); we expect this to accelerate the unwinding of the 'reflation trade'."
Analysts at Jefferies downgraded Scottish energy company SSE from 'buy' to 'hold' on Monday, stating that an expected increase to capex could possibly leave the group's balance sheet somewhat stretched.
Jefferies said it had carried out "a broad refresh" of its forecasts for the stock after the company indicated that it will update the market on its capex plans in November, with the analysts now believing that it is "likely" that SSE's full-year 2021-2025 capex target of £7.5bn will be upgraded.
As Jefferies now sees £8.6bn as being "a reasonable estimate", it now fears that the move will leave the group's balance sheet stretched despite highlighting that the additional growth investment should be viewed as a positive, in its eyes.
Jefferies, which reduced its target price on SSE from 1,690.0p to 1,680.0p, also pointed out that SSE had performed "relatively well" over the last 18 months, outperforming the FTSE 100 by 15% since January 2020 and outperforming other UK-focused utilities by around 5%.
Credit Suisse initiated coverage of Howden Joinery at 'outperform' on Monday, with a 900.0p target price, as it said the group should benefit from an increasingly positive kitchen market in the near term.
"Longer term, we expect the group to continue to take share, supported by its simple and differentiated business model," CS said.
The bank also said that consensus estimates for 2021 are particularly conservative. "While we see upside to earnings estimates across our repair, maintenance and improvement (RMI) exposed coverage, we find Howden particularly attractive," it said.
"We expect the current strength of the housing market to drive strong demand for the balance of 2021, where we believe consensus is likely to prove overly conservative. In combination with price inflation, we expect this to mean that H2 2021 revenue is flat year-on-year, despite last year's relative strength, with margin mix also normalising."
Credit Suisse also noted that while the UK kitchen market has seen minimal long-term volume growth, Howden has more than doubled its market share since the early 2000s.
Morgan Stanley upgraded its recommendation on shares of online supermarket Ocado on Monday to 'overweight' from 'equalweight' following a selloff.
The bank said that with the shares now down 34% since the peak in September, near-term risks are priced in.
"Given the compelling total addressable market, and the share pricing in only 388.0p for new contracts, this represents an attractive entry point," it said.
MS upped its price target on the stock to 2,825.0p from 2,813.0p.
Deutsche Bank has upgraded its rating on St James's Place to 'buy', arguing that there is now better visibility surrounding the firm's long-term financial targets.
In February, St James's Place announced plans to grow new business by 10% per annum, which would give it £200.0bn in assets under management by 2025.
Deutsche Bank, which previously had a 'hold' rating on the global wealth management firm, said it had initially been concerned about the "limited longer-term visibility" around these targets. However, following a recent capital markets day, the bank confirmed it was now taking "a more positive stance" and predicted that the 10% gross flows growth target out to 2025 "could even be exceeded, and could be sustained beyond 2025 as well".
It continued: "While we acknowledge that this is a lower top-line growth rate than historically achieved, we argue that the combination of this with only 5% per annum controllable expense growth over the same period implies the bottom-line growing in excess of 12% per annum, and sustainably so.
"With the shares now trading 20% below their 10-year average rating, relative to funds under management, we lift our recommendation to a 'buy'."
DB also increased its target price on the stock to 1,620.0p from 1,440.0p.