MPs slam Hammond's claim of no-deal Brexit dividend as 'not credible'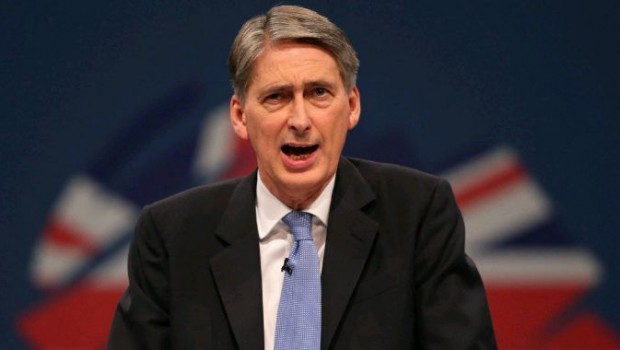 UK Chancellor Philip Hammond's claim of a Brexit "deal dividend" was ridiculed by a cross-party group of MPs on Tuesday as "not credible".
In a report, the powerful Treasury committee also said Hammond's claims that the decade-long grind of austerity was coming to an end were "expansive and imprecise".
Hammond maintains that if a no-deal Brexit was avoided it would produce an economic boost by removing uncertainty for business and also free up contingency funds earmarked to cope with crashing out of the EU with no agreement.
Data released on Monday showed the domestic economy grew by just 0.2% in the final quarter of 2018, down from 0.6% in the third quarter. A sharp contraction in December illustrated the effect the Brexit uncertainty was having on businesses as GDP fell 0.4%.
Annual GDP growth slipped to its lowest level in six year to 1.4%, down from 1.8% in 2017.
In oral evidence to the committee, Paul Johnson, director of the influential Institute for Fiscal Studies (IFS), interpreted the Chancellor as referring to an improvement in investor certainty if 'no deal' were avoided but was unsure that this could be described as a dividend, the committee said.
"I think it is odd to refer to a 'dividend'. Essentially what I think is being talked about is avoiding something really very bad. If you think of that as a dividend, well, fair enough, but I don't think normal English would support that," he told the committee.
Johnson's view was echoed in evidence by Confederation of British Industry chief economist Rain Newton-Smith who thought that any growth boost would be limited in scope.
Newton-Smith said that her "sense...from talking to companies is that they do not have a button that they are ready to press as soon as we have that deal secured [but] once we have that deal secured they at least can breathe a sigh of relief".
The committee found that the government's independent forecaster, the Office for Budget Responsibility already assumes "the UK makes an orderly transition to its new economic relationship with the EU".
"Therefore, no "deal dividend" over and above the existing forecast could be attained simply by avoiding a disorderly outcome."
Beyond this, there could be some improvement to business confidence and investment following a an orderly transition or a resolution of Brexit-related uncertainty that is not currently forecast by the OBR. It is not credible that this be described as a dividend."
On the end of austerity, imposed on the economy by Hammond's predecessor George Osborne, the chancellor told the committee this meant "more generous funding of public services, real wage growth and a lower proportion of income going into taxation".
However, the MPs said this definition was "imprecise". At the next budget and comprehensive spending review, the chancellor will have the opportunity to set out his meaning in more measurable terms. This could include, for example, a plan for the overall levels of government revenue and spending as shares of GDP," they said.
Hammond's claim took a further blow on Monday when the IFS said he would have to find an extra £5bn in this year's departmental spending review to reverse planned cuts.
The IFS said funds pledged in last year's budget to boost NHS spending, defence and international aid all failed to safeguard local councils and some of the worst-hit government departments from further shortfalls.