Tory MPs discuss ousting May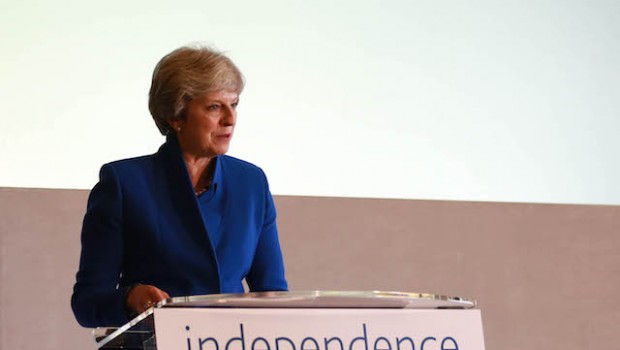 Conservative members of parliament reportedly met on Tuesday to discuss whether to force Prime Minister Theresa May to stand down, as a last resort to discard her Brexit Chequers plan.
According to the BBC, a source reported that around 50 conservatives members of the European Research Group discussed leadership election rules. The source also revealed the no-confidence vote in the Prime Minister could come at the end of this month. Comments at the meeting reportedly included "everyone I know says she has to go" and "she's a disaster", referring to the PM's handling of Brexit.
MP John Baron who was at the meeting told ITV news: "If she won't chuck Chequers then I'm afraid the Party will chuck her. We were discussing leadership issues."
Leading Brexiteers - Jacob Rees-Mogg, Owen Paterson, Iain Duncan Smith, David Davis and Boris Johnson - were not present at the meeting. Rees-Mogg and former ERG chair Steve Baker later denied that they were looking to unseat the PM.
Alongside an event to coincide with the publication of a new ERG position paper on the Northern Irish border, Rees-Mogg said he supported May but just wanted one change in policy. The Irish border paper aims to circumvent the EU's objections to previous proposals, suggesting the bloc's demands that the UK will have to sign up to "equivalence of UK and EU regulations" for food products and standards will be possible by a joint system of customs checks away from the border.
May's Chequers plan has proposed "friction-free movement of goods" between the UK and the European Union with no customs or regulatory checks, in a move to avoid a hard border in Ireland. This would come with a "harmonisation with EU trade rules and a combined customs territory.
The ERG strongly disagree with these proposals claiming they would get in the way of free trade with countries outside the EU. They announced recently they will unveil new plans for the border in the near future.
In order to oust Theresa May, they would need 15% of Tory MPs to write to the chairman of the backbench 1922 Committee and demand a vote of no confidence.
Theresa May's ousting and the government going back to the Brexit deal drawing board could cause strained negotiations between the UK and the EU.
According to Bloomberg both sides are preparing for a special summit to sign the Brexit deal in November, and the meeting could be announced within days.
On Monday, chief negotiator for the EU Michel Barnier said he thought reaching an agreement on the terms of the U.K.'s departure was "realistic" within the next six to eight week.
If a deal is reached, it then has to go to both the UK and the European Parliaments to be approved. Tory and opposing Labour MPs could sabotage the plan if they consider the deal to lead to a soft Brexit.