MPs to vote on ruling out second referendum, cancelling MV3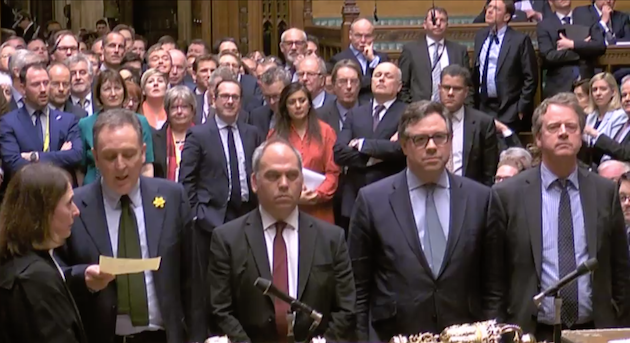 As well as voting on whether to extend the Brexit deadline, MPs will on Thursday also decide whether to allow Theresa May a third meaningful vote on her Brexit deal.
The main vote on Thursday is on the government's motion to agree to seek an extension of the 29 March Brexit deadline, also setting next Wednesday, 20 March, as the deadline for MPs to pass a Brexit deal. The motion notes that if MPs do not agree a Brexit deal by 20 March, then the European Council at its meeting on 21 March will require a "clear purpose for any extension" to determine its length, as pushing the date past 30 June will require the UK to hold European Parliament elections in May 2019.
Just after midday, House of Commons speaker John Bercow chose four out of the 12 possible amendments that had been submitted by various groups of MPs.
One, put forward under the name of Sarah Wollaston of the new Independent Group and backed by MPs from the SNP, Labour and the LibDems - called for an extension to Article 50 to allow for time for a referendum on Brexit.
The second was from Labour's Hilary Benn and with support from college Yvette Cooper and Tory Oliver Letwin among others, calling for next Wednesday to be set aside for MPs to propose, debate and hold indicative votes on alternative Brexit solutions. This amendment was further amended by Labour's Lucy Powell changing the timing.
The third, from Jeremy Corbyn and front-benchers including Keir Starmer, Emily Thornberry and John McDonnell saying Article 50 should be extended to allow time for parliament to "find a majority for a different approach" to Brexit.
Finally, an amendment will be voted on from Labour's Chris Bryant and with support from several opposition party MPs pointing out that parliamentary rules suggest that Theresa May should not be allowed to bring her deal back to the Commons for a third meaningful vote, known as MV3, after it has already been definitively defeated twice this year.
One option that was not chosen was the ERG-supported proposal to rule out a second referendum, although Wollaston's amendment effectively asks MPs the same question in a different manner.
The votes will take place from around 1700 GMT on Thursday.
Financial markets did not seem entirely sure what to make of Brexit developments, with the pound falling 0.8% against the dollar to 1.3237, having surged to a nine-month high on Wednesday after MPs voted to reject a no-deal Brexit on an amended government motion by 321 votes to 278. Against the euro, the pound was down 0.5% weaker at 1.1716.
Overnight, Tory Eurosceptic Steve Baker, said the European Research Group, of which he is chairman, has plans to ensure the UK leaves the EU on 29 March, noting that unless the law were to be changed, the default position was that this was the departure date.
Asked whether the ERG can stop the law being changed, Baker maintained: "There are some things we could do to prevent the law going through in the time that is available, yes."
Bookmakers were highly sceptical, with Paddy Power giving a 90% chance of success that the Article 50 deadline will be pushed back.
Eponymous spokesman Paddy Power said: "Another day, another vote. All this to avoid asking the public to take part in another vote. It's like X Factor on acid – which is presumably the best way to watch that show.
"Speaking of shows, the latest vote could be a show of strength from Theresa May, apparently, which doesn't ring true – but we think she'll get her extension, which could strengthen her chances of forcing through her deal."