Juncker, May agree to new Brexit talks after 'robust' meeting
PM fails to make headway on alternatives to Irish backstop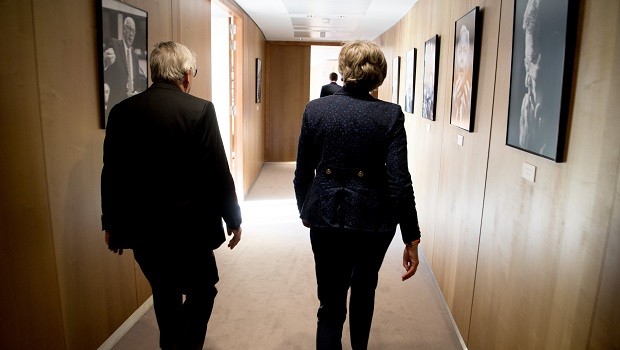 Jean-Claude Juncker and Theresa May held "robust" Brexit discussions on Thursday with no tangible progress on the Irish backstop, but agreed to hold further talks to break the impasse.
Prime Minister May arrived in Brussels seeking "alternative arrangements" to replace the backstop and get her deal through parliament, but was rebuffed firmly by European Commission chief Juncker.
However, Juncker offered to be "more ambitious" in terms of the speed and content of reaching a future trade deal with the UK.
In a joint statement, the pair said that despite "challenges" both sides should hold talks as to whether a way through "can be found that would gain the broadest possible support in the UK parliament and respect the guidelines agreed by the European Council"
May and Juncker agreed to meet before the end of February "to take stock of these discussions".
The prime minister "described the context in the UK parliament, and the motivation behind last week's vote in the House of Commons seeking a legally binding change to the terms of the backstop", according to the statement.
In response, Juncker underlined that the other 27 EU states "will not reopen the withdrawal agreement, which represents a carefully balanced compromise between the European Union and the UK, in which both sides have made significant concessions to arrive at a deal".
"President Juncker drew attention to the fact that any solution would have to be agreed by the European parliament and the EU27."
The meeting came a day after European Council President Donald Tusk, warned of a "special place in hell" for those who campaigned for Brexit without having a plan, sparking fury from anti-EU MPs in the UK.
Speaking to camera after her meeting with Tusk, May said she had challenged him over his remarks.
"I've raised with President Tusk the language that he used yesterday, which was not helpful and caused widespread dismay in the United Kingdom. The point I made to him was that we should both be working to ensure that we can deliver a closer relationship between the United Kingdom and the European Union in the future, and that's what he should be focusing on," she said.
The European Parliament's Brexit coordinator, Guy Verhofstadt also met May and said had confirmed there would be some kind of mechanism in place.
"It's important that Mrs May today assured us that there will be a backstop, that there is no question to remove the backstop," Verhofstadt told reporters after the meeting.
"If there are problems with this backstop as it is now foreseen in the withdrawal agreement, our proposal is to try to solve the problem in the political declaration because we are open as parliament from day one to upgrade this political declaration, to make this political declaration more binding, more precise. Also on the issue of the backstop explaining and saying very clearly that this is an insurance and not more than that."