Johnson accuses MPs, EU of 'terrible collaboration' on Brexit
Hammond says PM using 'wrecking tactics' to deliberately force no-deal
Ex-finance minister says Downing Street advisers 'have different agenda'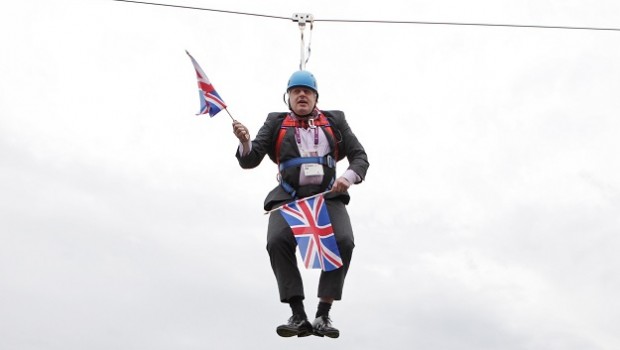 Prime Minister Boris Johnson on Wednesday accused MPs and the European Union of a "terrible collaboration" in trying to block Brexit .
He said the EU was refusing to compromise on the Irish backstop arrangement, which made a no-deal exit more likely, although Johnson has steadfastly refused to sit down with European leaders unless they re-open talks.
The remarks came after former UK finance minister Philip Hammond said Johnson and his advisers were deliberately plotting to take the UK out of the European Union without a deal.
Hammond, who quit his post when Theresa May stepped down last month, said Johnson was using his demand for a removal of the Irish backstop clause in the withdrawal agreement as a "wrecking tactic" to deliberately force a no-deal exit.
In a live public broadcast on Facebook where he answered pre-selected questions, the prime minister accused "our European friends" of "not moving in their willingness to compromise".
"There's a terrible kind of collaboration, as it were, going on, between people who think they can block Brexit in parliament and our European friends," he said.
"The awful thing is the longer that goes on, the more likely it is of course that we will be forced to leave with a no-deal Brexit."
Speculation has grown that Downing Street is planning a general election just days after the Brexit deadline of 31 October if Johnson loses a widely-expected vote of no-confidence in his government. This would mean proroguing parliament, denying MPs any chance to stop no-deal.
HAMMOND WARNS OF 'BETRAYAL'
His remarks came after a letter from Hammond and more than 20 other Conservative MPs warning the prime minister against such a move was leaked.
"To set the bar for negotiations so high that we inevitably leave without a deal would be a betrayal. The prime minister said he would get a deal and we want to see him deliver that deal," Hammond said in a media interview on Wednesday.
"Pivoting to say the backstop has to go in its entirety, a huge chunk of the withdrawal agreement just scrapped, is effectively a wrecking tactic. The people behind this know that means there will be no deal."
"More than 17 million people did not vote to leave the EU with no deal. That is the key point here. There is no mandate for leaving with no deal."
Hammond said it was "absurd" to suggest that people who voted to leave did so because they wanted no deal "when, in fact...during the referendum campaign there was virtually no mention made by the leaders of that campaign at all of the possibility of leaving with no deal".
Hammond said Johnson had told him privately that he was determined to get a deal, echoing public pronouncements during his leadership campaign which he swiftly reversed once he became prime minister.
"I fear there are other people around him whose agenda is different," Hammond said, adding that he was "confident that the means exist for parliament to make its voice heard and to pass legislation that gives effect to the clear view of parliament".
"It's very clear to me, and the Speaker of the House of Commons has also been very clear, that if a majority of MPs clearly want to go down a certain route, a means will be delivered to allow that to happen."
PARLIAMENT TO STOP PM?
Speaker John Bercow reportedly said on Tuesday he would "fight with every breath in my body" to prevent Johnson from suspending parliament to get his way.
Hammond said the only options on the table if the impasse was not broken would be "some form of democratic process, and there are frankly two choices: a general election or a referendum".
In Brussels, European Commission spokeswoman Vanessa Mock said the EU was "ready to analyse any concrete proposals that are compatible with the withdrawal agreement, and also ready to rework the future relationship as outlined in the political declaration".
"The UK knows well that our doors remain open to that effect. But for the talks to progress the UK government needs to explain its ideas on how it sees the way forward, respecting the commitments it took earlier in these negotiations."