DUP says May Brexit plan 'raises alarm bells'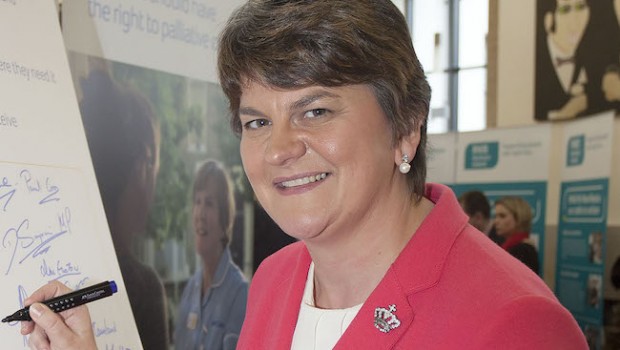 Theresa May's Brexit plans appeared to be on thin ice on Friday after the Democratic Unionist Party (DUP) said her plans to keep Northern Ireland inside the customs union even without a deal "raises alarm bells".
The hard right DUP, whose 10 MPs help to keep May's embattled government in power, have been angered by what they see as a breach of a promise over the Irish issue.
In a letter to the DUP, which was leaked to the Times newspaper, May said EU negotiators still wanted to see Northern Ireland in the customs union and single market whatever the outcome of talks.
May has said in the past that she would not agree to anything that would see Northern Ireland treated any differently to the rest of the UK. The EU does not want the reintroduction between the six counties and the nation of Ireland.
"The PM's letter raises alarm bells for those who value the integrity of our precious union & for those who want a proper Brexit for the whole UK," said DUP leader Arlene Foster.
"From her letter, it appears the PM is wedded to the idea of a border down the Irish Sea with NI in the EU SM regulatory regime."
The so-called "backstop" solution to the Irish issue would allow the UK to complete customs checks on behalf of the EU, a suggestion which has infuriated the DUP, which is in favour of a hard Brexit despite the fact that Northern Ireland voted to remain inside the European Union by 56% to 44%.
The EU plan, which would include the arrangement in any divorce deal irrespective of the outcome of talks, has been called the "back-stop to the back-stop".
The letter also stated that the government did "not expect regulations to diverge between Great Britain and Northern Ireland" during the backstop, meaning the whole of the UK would be tied closely to European rules.