Volex sees earnings surge as complex assemblies business grows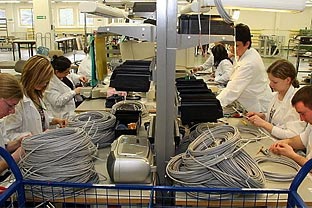 Complex assemblies and power cords producer Volex reported a 7.3% rise in revenue in its first half results on Thursday, to $195.7m (£152.18m), while its underlying operating profit surged 61.7% to $15.9m.
The AIM-traded firm said its statutory operating profit rocketed 82.5% for the 26 weeks ended 29 September, to $10.4m, and its underlying profit before tax was 70% higher at $15.3m.
Basic earnings per share were ahead 96.3% at 5.3 US cents, and underlying diluted earnings per share were 46.6% higher at 8.5 cents.
The company had net cash of $7.9m at period end, down 68.3% from the $24.9m it reported at the end of the first half of last year, while the board declared an interim dividend of 1p, compared to nil dividend a year earlier.
Looking at its operations, in July Volex acquired Servatron, a US-based manufacturer of printed circuit board assemblies, box builds and complete sub-assembly solutions.
The board said the acquisition of Servatron in the North American market, as with that of Silcotec in the European market, would allow the company to continue to move up the value curve by offering more complex integrated manufacturing solutions to existing Volex customers.
It said it had identified further opportunities to restructure its operations to improve efficiencies and further reduce costs across its global factory footprint.
The company also claimed further supply-chain improvements, including a major step towards vertically integrating its power cords business through the purchase of a Chinese cable manufacturing business, Ta Hsing, in June.
Volex explained that it was in the process of "significantly expanding" the manufacturing capacity in its Batam factory, to allow for the production of high-speed data cables outside of China for the first time, and said it had been successful in winning two new global customers in its power cords division, which would contribute to revenue in the second half.
"I am delighted to announce that Volex will recommence the payment of a dividend, starting with an interim dividend of one pence per share," said executive chairman Nat Rothschild.
"This is the first dividend we have paid since 2013 and it has been made possible due to the significant re-positioning seen across our business during that period.
"We are now cash generative, creating healthy profits across our two business divisions, and in acquisitive growth mode."
Rothschild said the company had a "clear strategy" to grow this business and increase shareholder value.
"We understand where we have the capability and expertise to be competitive in our chosen markets.
"For the first time, the higher-margin complex assemblies business made up the majority of our revenue in the first half of the 2020 financial year, in accordance with our strategy of repositioning Volex towards higher-margin value-added business.
"We are well known as a high-volume manufacturer of power cords but it is our complex assemblies business that now leads the way in terms of profit generation."
The company continued to invest through acquisitions of complementary capabilities and, alongside its customers, in new programmes for data centres and electric vehicles, Rothschild added.
The businesses that it acquired in the prior year were now embedded within the organisation and operating successfully within the group, he said.
"We made another two acquisitions in the first half of this year. Servatron, a US-based integrated solutions manufacturer, expands our capability set and provides additional routes to service customer demand.
"Ta Hsing, a Chinese manufacturer of cable products, provides us with additional control over our power product supply chain while also reducing our costs.
"Within complex assemblies we continue to deliver solutions to customers who value our engineering expertise."
The firm used its knowledge in that area to ensure it delivered to the "highest quality standards" with economical pricing in defensible niche markets, such as medical, instrumentation and advanced data centre applications, the board said.
"Certain customer segments play to the strengths in our power cords division.
"We work best with customers who value high-quality products at a competitive price point.
"We are highly skilled at developing solutions that balance aesthetics and reliability, which positions us well to work with premium brands."
Nat Rothschild said the company was "working hard" to develop new customer relationships as well as deliver innovation and efficiency to its existing customers.
Looking ahead, he said the firm was taking the opportunity to "selectively invest" in increasing capacity in its key facilities, and leverage its global footprint.
It was also continuing to vertically integrate its power cord manufacturing capability and optimise its supply chain and production capacity to reflect economic trends.
"Volex has again delivered a solid first-half performance with growth in trading profit and margins.
"Despite macroeconomic headwinds, our business is proving resilient.
"There are further significant opportunities for each of our business units to improve both sales and margin performance through rigorous execution of the strategy, in both the short and longer term."
The board said it remained confident in delivering its full-year expectations, and in the company's ability to drive shareholder value.
At 1031 GMT, shares in Volex were up 3.7% at 112p.