ReNeuron Group inks research evaluation deal with US firm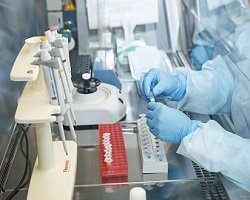 Cell-based therapeutics company ReNeuron Group announced on Thursday that it has signed a new research evaluation agreement with a major United States biotechnology company, in connection with the use of its proprietary exosomes for the delivery of novel gene silencing therapeutics.
The AIM-traded firm said the latest research collaboration would focus on the use of its human neural stem cell (hNSC)-derived exosomes for the delivery of the US company's neuroscience therapeutic candidates.
ReNeuron said it would be responsible for manufacturing exosomes, and then loading them with the gene silencing sequences, after which the US company would evaluate the loaded exosomes.
Assuming positive results, the parties would jointly own the novel therapeutic candidate created for future development.
The board said the research evaluation agreement was in line with its strategy of partnering its exosome technology as a novel delivery vehicle.
It said the new agreement followed an exosome research collaboration with a major pharmaceutical company, as announced on 7 April, which the directors said reflected the increasing level of industry interest in exosomes.
"We are delighted to be collaborating with this major US biotechnology company in the discovery and development of novel gene silencing-based therapeutics," said chief executive officer Olav Hellebø.
"This latest exosome collaboration follows our strategy of collaborating and out-licensing our proprietary exosome technology as a novel delivery vector and underlines the potential commercial value of these proprietary nanoparticles."
At 1041 BST, shares in ReNeuron Group were up 3.25% at 136.8p.