Pennant International warns on profits following contract delays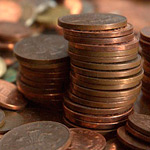 Military training systems supplier Pennant International on Friday warned full year profits would be "materially lower" than expected due to delays in delivering a contract.
The company said it expected to report full year earnings before interest, tax, depreciation and amortisation of £1.8m, adding that its programme schedule for its electro-mechanical trainers for the Ajax armoured fighting vehicle "may need to be extended". Pennant shares plunged by almost a third on the news.
First half results would be "slightly better" than expected, with revenues of £7.25m and an underlying loss of £1.49m, as a result of the change to revenue forecasts on the Ajax programme, the company said in a statement.
Pennant said that progress on delivering the contract "may be slower than budgeted" for the second half, with material uplift in revenues not envisaged until the contract could be re-based towards the year-end. It cited a customer request for "additional and amended functionality for the training devices" for the delay.
The group said its three-year contracted order book was roughly £36m, but also cautioned that a number of smaller potential orders expected to convert in the second half now appeared more likely to be realised next year.
At 1045 BST, Pennant shares were down 28% at 55.50p.