Oxford Biomedica swings to EBITDA profit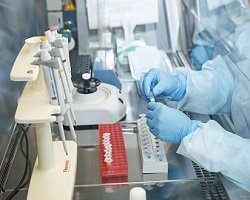 Oxford Biomedica reported a 37% improvement in total revenues in its preliminary results on Thursday, to £87.7m.
The FTSE 250 company said bioprocessing and commercial development revenues increased 45% to £68.5m for the year ended 31 December, with double digit growth across both activities, driven by new customers AstraZeneca, Beam Therapeutics and Juno/BMS.
Revenues from licences, milestones and royalties increased to £19.2m from £16.8m in the prior year, due to the recognition of a £7.8m licence fee from Juno/BMS as well as other licence fees, milestones and royalties from customers.
Operating expenses increased by less than revenues, rising 23% to £51.7m, aided by the move to the lower-cost bioreactor manufacturing process.
The firm swung to an operating EBITDA profit of £7.3m from a loss of £5.2m in 2019, which was marginally above its guided range.
Its operating loss, meanwhile, narrowed to £5.7m from £14.5m.
The company's platform segment generated an operating profit of £2m, compared to a £20.2m loss a year earlier, while the product segment made a loss of £7.7m, swinging from a £5.7m profit in 2019.
Capital expenditure decreased to £13.4m from £25.8m, which the board said was primarily due to the Windrush Court laboratory conversion and equipment purchases, and leasehold improvements at Oxbox.
Cash at year-end stood at £46.7m, up from £16.2m at the end of 2019, and had reached £65.9m by 31 March.
Oxford Biomedica said cash used in operations totalled £3.9m for the year, falling from £6.6m as a result of the increased revenues, offset by further operational investments.
The company undertook a successful £38.3m equity fundraise in June, to exploit the growth in the cell and gene therapy market.
"We not only secured major new partnerships, brought the Oxbox manufacturing facility online in record time and responded to the challenges of the pandemic, but the team has also been able to rapidly work with AstraZeneca to provide a vaccine solution for Covid-19," said chief executive officer John Dawson.
"This is a true testament to the world-class calibre and dedication of our staff in the year that the group also gained entry to the FTSE 250.
"Looking to the future, with the continued tide of growth in cell and gene therapy, coupled with the group's leadership position in the lentiviral vector field, we are well positioned to advance both our own proprietary pipeline and that of our current and future partners' programmes."
At 0844 BST, shares in Oxford Biomedica were up 0.43% at 1,044.48p.