Novacyt launches two new rapid Covid-19 test products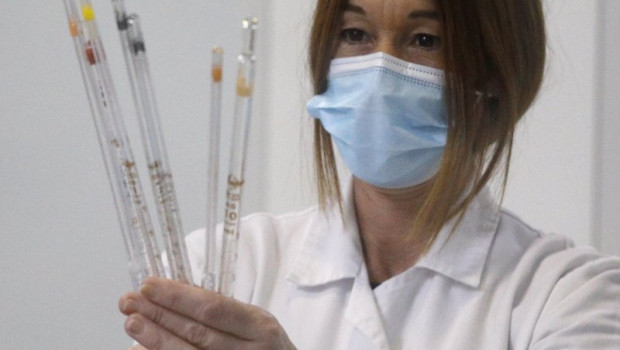 Clinical diagnostics specialist Novacyt announced the planned launch of two 'PathFlow' Covid-19 antigen lateral flow tests on Tuesday, to strengthen its Covid-19 portfolio and to pursue significant new market opportunities, particularly in point-of-care settings.
The AIM-traded firm said it would first target private market opportunities for the tests, via its existing distribution network.
It described the two new PathFlow tests as small, instrument-free and containing all required components for safe sample collection, preparation, testing, interpretation of results, and disposal, for use by healthcare professionals or patients in-home.
The use of point-of-care testing is a first line rapid screening option, and as such, Novacyt said the antigen lateral flow tests complement its existing polymerase chain reaction portfolio for SARS-CoV-2 diagnosis.
It said the first test, 'PathFlow Covid-19 Rapid Antigen Pro', is a CE-marked lateral flow test for professional use, detecting SARS-CoV-2 antigens using either anterior nasal samples or nasopharyngeal samples, providing results in about 15 minutes.
When using nasal swab specimens, the test demonstrated a sensitivity of 93.5% and specificity of 99.3%, and when using nasopharyngeal swab specimens, it demonstrated sensitivity of 93.4% and specificity of 99.4%.
Both sampling methods were tested against 316 samples, and the product was immediately available, Novacyt confirmed.
The second test, 'PathFlow Covid-19 Rapid Antigen', is a self-administered lateral flow test to detect SARS-CoV-2 antigens using oral fluid samples, and also provides results in about 15 minutes.
Novacyt said the test demonstrated a sensitivity of 90.1% and specificity of 99.3% from 303 clinical samples.
The test would offer mass screening for home, travel, events, and workplace markets, with the company expecting to make it available as a CE-marked product shortly.
Both tests were developed with a partner through an original equipment manufacturer agreement, in conjunction with Novacyt's microgen bioproducts division, the board said.
"Throughout the pandemic we have continued to launch new products to ensure our Covid-19 portfolio remains at the forefront of our industry," said chief executive officer Graham Mullis.
"These two antigen lateral flow tests will support our customers as the market continues to evolve towards private testing and we believe they will become a useful entry point to our existing range of polymerase chain reaction Covid-19 tests."
Mullis said that with the potential for a flu season starting in the northern hemisphere in the coming months, it would be important to know whether a patient had flu or SARS-CoV-2, adding that having access to quick results would be "critical" to patient treatment and containing the spread of Covid-19.
"These lateral flow tests add to our existing PathFlow range, which is a portfolio for the rapid diagnosis of a number of infectious diseases, and we will continue to evaluate other Covid-19 point-of-care tests to meet the changing demands of the market."
At 0846 BST, shares in Novacyt were up 1.38% at 350.86p.