Hotel Chocolat tumbles on warning of slower growth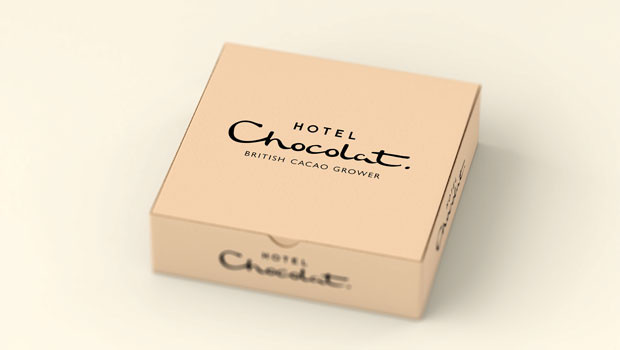 Upmarket confectioner Hotel Chocolat reported a 37% improvement in full-year revenue in a trading update on Tuesday, to £226m - ahead of market expectations - but a warning of higher costs and lower profits in the new period saw its shares tumble.
The AIM-traded firm said that was also 70% higher than the financial year ended 30 June 2019, being the last full equivalent period before the impact of the Covid-19 pandemic.
It described second-half growth as "very robust" at 32%, against stronger comparatives in the fourth quarter of the 2021 period following the end of UK lockdowns, when group sales growth began to accelerate.
While the board said it expected underlying profit before tax for the year ended 30 June to be in line with market consensus, statutory reported profit was expected to be a loss, being affected by the outcomes of an internal business review.
That was primarily the result of non-cash impairment provisions and costs arising from discontinued activities, including the closure of retail stores in the United States, the directors explained.
The group said it was "well-capitalised", with cash on hand of £17m as at 26 June, and £50m of available undrawn headroom in its £50m working capital revolving credit facility.
Inventory production for the 2023 financial year was "well-advanced".
Looking ahead, Hotel Chocolat said that having raised £40m of new equity in July 2021 to support growth investments, the board had now reviewed the relative performance of each strategic growth driver over the year.
Given the current global macroeconomic climate, it said it would now focus its efforts over the next three years on its "most proven and lowest-risk strategies" with the greatest potential for further increased profitability and scaled cash generation.
It said VIP loyalty and digital would continue, now forming a core part of "business-as-usual" growth in the UK, without requiring material additional investment in the near-term.
The 'Velvetiser' hot chocolate system and 'Velvetised' chocolate cream alcohol would also continue as capital-light growth categories, with "significant" further UK market headroom, and the potential for risk-contained capital-light international wholesale growth.
In response to the change in the global macroeconomic environment, investment levels in the US and the Japan joint venture would be "materially reduced", with ongoing investment limited to essential working capital only.
The board said the "focus on profitable drivers" would mean lower sales growth in the short term, and some transitional costs leading to lower profits in the 2023 financial year, with the objective of higher profits thereafter and a strategic goal of 20% EBITDA in 2025.
"The Hotel Chocolat brand is achieving very strong growth in the UK, and we are pleased to have beaten sales expectations and expect to meet underlying profit expectations for 2022," said co-founder and chief executive officer Angus Thirlwell.
"The way the market has rapidly changed for all businesses in the second half certainly emphasises the resilience value of investments that we have made over the last 20 years - in building a differentiated brand with strong customer loyalty, a unique and desirable product range, and our own, dependable UK chocolate factory.
"A year of exceptional sales growth following two years of reactionary tactics to the pandemic has left clear opportunities for us to proactively streamline overheads and improve gross margins."
Thirlwell said the company had set the target of becoming a 20% EBITDA margin business within three years by applying systemisation, automation, and capacity investments to its 70% larger scale versus 2019.
"While we expect a temporary lower sales growth rate and profit margin for 2023 as we carry through our adjustments, the result will be a business delivering greater results, with less risk and an even stronger balance sheet with a higher profit percentage growth in 2024 and 2025.
"We have discovered that our UK market can be a lot bigger for us than we thought a year ago, thanks to the new drinkable chocolate products and the way our digital and stores businesses are performing."
At 1011 BST, shares in Hotel Chocolat Group were down 44.68% at 130p.
Reporting by Josh White at Sharecast.com.