Anglo Asian Mining lays down 2020 work programme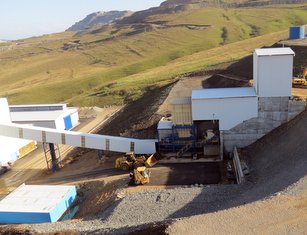 Azerbaijan-focussed gold, copper and silver producer Anglo Asian Mining updated the market on the overall progress of its exploration programme on Monday, and detailed its planned exploration for 2020.
The AIM-traded firm said that at Gedabek, work defining further mineable lateral and down-dip mineralisation at Gadir was ongoing and showing good results.
It said the tunnel development towards the mineralisation target below the Gedabek open pit was advancing at a good pace, with the tunnel set to be extended to enable the construction of drill chambers to test the down-dip extensions.
The "very important milestone" of extending the tunnel from pit four to pit six was set to be achieved in 2020.
Anglo Asian also said the publication of new resource and reserves statements for the Gedabek open pit was planned for 2020, and added that follow-up geophysics was planned on the "exciting" copper mineralisation intersections adjacent to the Ugur deposit.
Ground-based geophysics at Avshancli would be carried out, to target drilling for resource estimation, with further exploration at mineralisation occurrences at Söyüdlü, Maarif and Bittibulag also set down for 2020.
At Gosha, Anglo Asian said recent early-stage exploration "fully supported" the case for further exploration, with further work planned for 2020.
A drill programme was set down for Asrikchay, as well as the reinterpretation of electrical geophysics to target polymetallic mineralisation, with the investigation of subsurface potential also planned beneath Gosha.
Surface core drilling there would test targets outside of 'zone 5'.
Finally, at Ordubad, work was described as "extremely encouraging", with significant grades intersected at both Dirnis and Keleki.
Further surface geological mapping, trenching and sampling focussed around Aylis, Dirnis, Keleki and Urchurdag was planned, with future drill locations to be determined through geological modelling and mineral targeting, with the aim to prioritise locations for resource drilling.
Preparation of a new geological map for the Ordubad contract area was underway, and drilling was planned between Shakardara and Piyazbashi, Aylis, and copper targets near Dirnis, focusing on copper and gold structural targets.
"I am delighted to provide both an overview of the progress of our exploration programme to date and the work planned for the rest of this year," said the company's director of geology and mining, Stephen Westhead.
"Overall, the work that has been carried out at our three contract areas over the past year has been highly encouraging."
Westhead said that in 2020, the company would actively continue its exploration programmes to capitalise on the "significant potential upside" which it believed existed across the portfolio.
"We look forward to sharing with you the results of our 2020 work programmes and are confident that we will expand our resources and extend the footprint of our operations."
At 1004 GMT, shares in Anglo Asian Mining were up 0.67% at 150p.