Angle upbeat on patent grant for prostate cancer blood assessment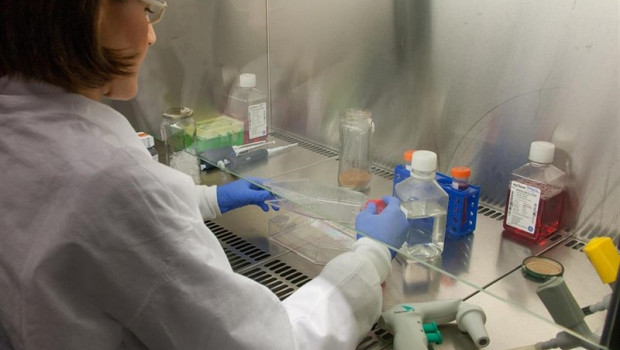 Liquid biopsy company Angle announced on Friday that the Queen Mary University of London (QMUL) European patent covering the measurement of the number of megakaryocytes in a patient blood sample as an assessment of the prognosis for prostate cancer has been granted.
The AIM-traded firm said it had an option agreement with QMUL, exercisable up until 14 June 2021, for an exclusive worldwide licence over the use of its megakaryocyte intellectual property.
It explained that the grant of the European patent protected the company's ability to offer a megakaryocyte-based test in Europe.
Similar patents were being pursued in the United States and certain other major territories.
QMUL published research in Clinical Cancer Research in 2017 using Angle's 'Parsortix' system, showing that the number of megakaryocyte cells in the blood of prostate cancer patients correlated closely with increased patient survival.
That was the first time the presence of those cells in patient blood had been shown to be connected to cancer prognosis, and the board claimed that to date no competing system had published success in this area.
It said the investigation of megakaryocytes in patient blood opened up the potential for a "whole new area" for cancer prognosis and, at present, Angle's patented Parsortix system was the only automated system that had demonstrated the capability of harvesting megakaryocytes.
Alternative liquid biopsy approaches, such as ctDNA - fragments of dead cells - could not assess the presence of megakaryocytes.
Angle said it now had the potential for intellectual property protection over the upstream megakaryocyte cell capture technology - its existing Parsortix intellectual property - and the downstream megakaryocyte analysis technology - via its option over the patent grant.
The protection of key intellectual property was described as an "essential part" of the firm's "differentiated and highly leveraged" product-based commercialisation strategy.
Angle noted that the Parsortix system had previously been shown to be capable of harvesting mesenchymal circulating tumor cells (CTCs), which were linked to a poor patient outcome.
Circulating megakaryocytes were linked to a more favourable patient outcome.
It said that combining those two factors could provide new insights into assessing the prognosis of prostate cancer patients, allowing stratified treatment.
"We welcome the acceptance of this European patent and are excited by the potential for this entirely new way of assessing cancer through a simple blood test that has been enabled by Angle's Parsortix system," said the company's founder and chief executive officer Andrew Newland.
"We will now be investigating the possibility of adding megakaryocyte tests to our existing CTC tests as part of our sample-to-answer imaging solution under development."