Angle secures first large-scale pharma services contract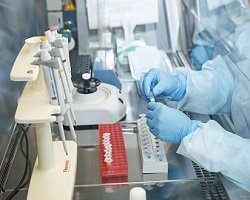 Liquid biopsy company Angle has secured its first large-scale pharma services contract, it announced on Friday.
The AIM-traded firm said the customer, an unnamed pharma company with numerous cancer drugs under development and annual revenues of more than $1bn, had chosen Angle's 'Parsortix' system to undertake monitoring of patients before, during and after drug intervention in three separate global clinical trials in prostate cancer and other locally-advanced and metastatic solid tumours.
It said the contract was expected to be worth up to $1.2m over about 18 months.
The work related to a large phase 3 prostate cancer study, and two smaller phase 1 studies which, if successful, could progress to larger phase 2 studies and subsequently much larger phase 3 studies.
Angle said the services would cover the capture, harvest and analysis of circulating tumour cells (CTCs) and CTC clusters.
Samples are being shipped from multiple study centres to Angle's clinical laboratories in the UK and the United States for analysis, using the Parsortix system.
The contract represented the first large-scale adoption of the Parsortix system for processing patient blood samples to help inform decision-making in cancer drug trials, the board said.
It added that the customer recognised the advantage in capturing mesenchymal, as well as epithelial cancer cells and the importance that CTC clusters as well as single CTCs could have in the progression of disease, metastasis, and drug resistance.
The Parsortix liquid biopsy had particular advantages in capturing intact cancer cells including mesenchymal cells and clusters, and provided the opportunity for longitudinal testing in a clinical setting, which Angle said was not possible with tissue biopsy.
It said it believed that longitudinal monitoring of CTCs would prove "highly attractive" to the pharmaceutical industry looking for new insights in cancer drug trials.
"We are delighted to have contracted with a pharma company developing numerous cancer drugs and look forward to working closely with them on their trials," said founder and chief executive officer Andrew Newland.
"Angle believes that there is a substantial business opportunity in providing services to pharma and biotech customers to support cancer drug trials.
"This contract demonstrates that our investment in clinical laboratories and a pharma services business, a key use of proceeds from our fundraising in October, is already delivering."
At 1200 BST, shares in Angle were up 6.83% at 88.88p.