Market Buzz
Undervalued Prudential could get huge upside from break-up - Credit Suisse
Fri, 18 August 2017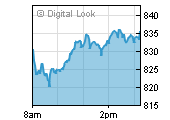 Price: 1,774.00
Chg: 0.50
Chg %: 0.03%
Date: 16:49
FTSE 100 Quote
Price: 7,310.64 Chg: 46.74 Chg %: 0.64% Date: 16:59
(ShareCast News) - Prudential is already trading at a discount to the UK life insurance sector and, amid rumours of a potential break-up, Credit Suisse calculated there could be considerable upside from such a move.
Last week Prudential revealed it is merging its UK operations M&G and Prudential UK & Europe into a single business, in a move that some believe could be a precursor to a sale, while earlier this week the FTSE 100 group offloaded its US independent broker-dealer network.

Amid growing rumours of a break-up, the Swiss bank looked at whether there is value in separating Prudential's fast-growing Asian franchise, variable annuity focused US arm and the mature UK operation.

Analyst Paris Hadjiantonis estimated there is roughly 27% upside potential from current levels, calculated this figure using peer-based multiples and allowing for capital dis-synergies of £3.1bn, deducting separation costs of £0.4bn to cover closure of PLC functions, advisory fees and rebranding expenses.

Of the potential upside around 13 percentage points was attributable to "unwinding the conglomerate discount", while additional benefits would include avoiding higher capital demands by no longer being designated a Globally Systemically Important Insurer.

At current levels Prudential shares trades at just over 11 times 2018 forecast earnings, representing a 3% discount to the UK Life sector despite what Hadjiantonis perceives as superior earnings growth outlook of around an 11% compound annual growth rate for 2016-2020.

The base case target price was upgraded to 2,075p from 2,045p, reflecting the cost synergies expected in the UK, but does not allow for the potential upside from any break-up of the group.

CS's forecasts were upgraded as the merger of UK operations serves to double the earnings expansion to 6% CAGR 2016-20, with management targeting cost saves of £145m per year by end-2022 and with the combined business felt to be better positioned to capture market share in the high growth pensions and savings market.

"Moreover, the combined group would also achieve a higher valuation multiple should it be listed separately as the UK Life operation on a stand-alone basis has no growth, in our view."

Furthermore, UK annuity back book disposals of up to £20bn could help mitigate dis-synergies resulting from a wider group separation, estimating a £10bn sale could release £550m of capital to potentially fund part of the capital required to break up the group or otherwise pay for the restructuring costs associated with integrating the UK businesses.

An 'outperform' rating was reiterated, with a reminder of Prudential's main risks being its exposure to long-term bond yields, with lower for longer or deteriorating yields in the UK and US leading to spread compression on its fixed and immediate annuities.